How is AI revolutionizing Web App Development in 2022?
How is AI revolutionizing Web App Development in 2022?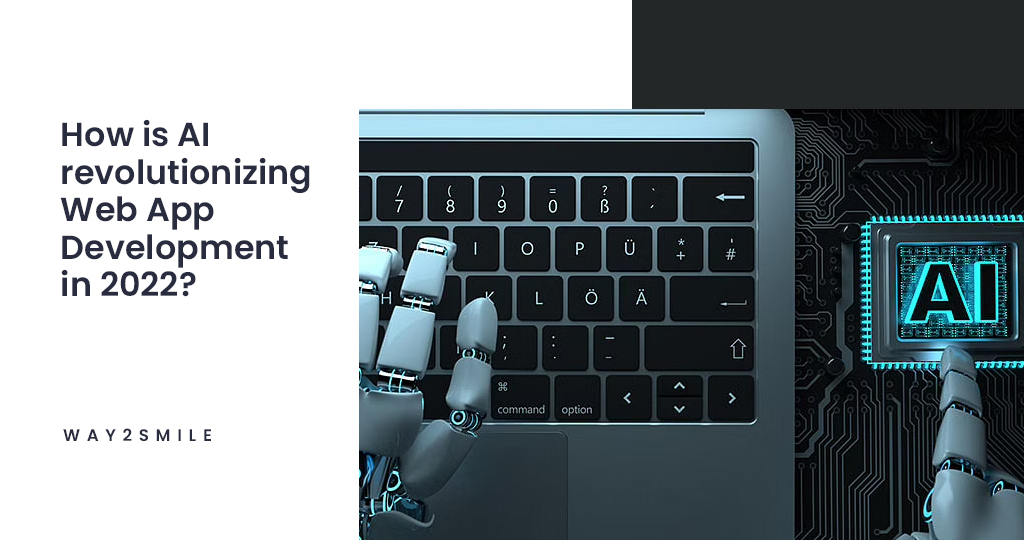 Reading Time:
4
minutes read
Overview: AI has grown in popularity in the modern world due to its human-like intelligence that makes complex tasks appear simple in a variety of industries. Although every company now owns a website or web app to run their business, there is a high demand for AI-imbibed web apps among businesses to improve web app designs and overall user experience. 
Continue reading this blog to learn how AI can empower your web app development projects!
Artificial Intelligence (AI) is one of the most sought-after technologies in the current market – from healthcare to retail, AI is making its mark for its potential to offer human-like interactions at non-human speeds. Emerging technologies like AI are now the backbone of innovation in web apps, for businesses to run their operations smoothly and efficiently. 
According to a study, the global AI market is on the rise and is expected to reach $126 billion by 2025. A major aspect to this growth can be attributed to the adoption of this technology into customer-facing web applications, by virtually every industry.
For many businesses, AI has proven to be one of the most cost-effective solutions to streamline manual work. Several customer-facing, and manual tasks, are now being automated with AI & ML, allowing organizations the bandwidth to innovate and utilize their human capital in more progressive tasks elsewhere. With AI-powered web apps, customers don't have to go the extra mile to do research or purchase products – they get a fully-personalized experience, offering all the relevant data that may be missed by a human mind. 
What is Artificial Intelligence (AI)?
Artificial intelligence (AI) has the capability to think, make decisions, understand concepts, and perform all the tasks of a human, but with greater efficiency & precision. It can even complete tasks that are not possible to be completed by humans. 
Huge volumes of data collected from various sources are fed into a computer system for AI systems to process and learn. Since this is no longer a specialist technology, but something that most organizations see as a staple in the digital age, this process of AI is now widely adopted for web app development projects by many enterprises to scale their businesses at speed. 
How is AI empowering Web App Development?
A few years ago, no one expected AI to have a significant impact on their businesses, particularly on web apps. People have begun to use even more web apps than before, which has spurred more and more user-behavior data – AI now plays an important role in web app development, from handling massive data sets to automating tasks, thanks to the huge amounts of user-behavior data. Also, the impact of AI in web app development is huge for enterprises, and developers, since it eliminates the tedious process of deploying code, testing processes, and managing server infrastructure.
AI transforming web development initiatives will eventually lead you to identify your potential customers and also help you update content better on the go for customers who keep looking for specific data. Also, AI will help you create better web apps that improve traffic and user interactions.
How can AI in Web Apps benefit your business?
Analyzing Customer Behavior:
AI in web apps helps analyze your web apps based on customer behavior to better understand their needs and provide better outcomes. You can specifically identify customer interests and improve designs to make your web app more intuitive and efficient.
Faster Development Process:
AI has become incredibly important in the development process, helping businesses to automate tasks rather than rely on manual processes. AI in web apps has the capability to identify errors and fix them right away, saving you time in the development of your web app. If you do hire web app developers to build your web apps, look for developers who have experience working with AI technology.
AI chatbots are very popular in most web apps today, as they are capable of managing complex tasks and interactions with customers. It offers great customer service experiences and handles massive volumes of conversations, helping businesses digitally address their customers' needs, but with a human touch.
Voice Search Optimization:
Voice search optimization is an additional benefit for AI in web app development, which most businesses prefer to have on their web apps to make it easier for customers to perform voice searches based on their requirements. 
What is the future of AI in Web Apps for your business? 
The use of AI in web app development is the future for any business that focuses on customers and looks to offer outcomes faster. AI has now become very common for usage across different verticals since it benefits customers and helps to automate tasks in a simpler way. The importance of AI in web app development has increased due to its power in addressing complex tasks and handling massive data.
For example, Amazon's Alexa, Apple's Siri, etc. is now easily accessible and affordable for any customer looking to improve home automation and assistance. Similarly, AI also improves your web apps and makes them easier and more accessible, in order to make customers stay longer, and keep coming back.
Final Thoughts:
The demand for AI in web apps is gradually increasing in the digital world among startups, enterprises, and governments to advance their businesses according to the future. AI in web app development suits any type of business in the modern world, helping ease workloads, automate tasks, and increase productivity. Enterprises willing to take their business to the next level can get professional support from the leading web development company in Dubai to get web app solutions with AI technology at an affordable cost to take on the global market.