Mobile App Development for Oil and Gas Industry
Mobile App Development for Oil and Gas Industry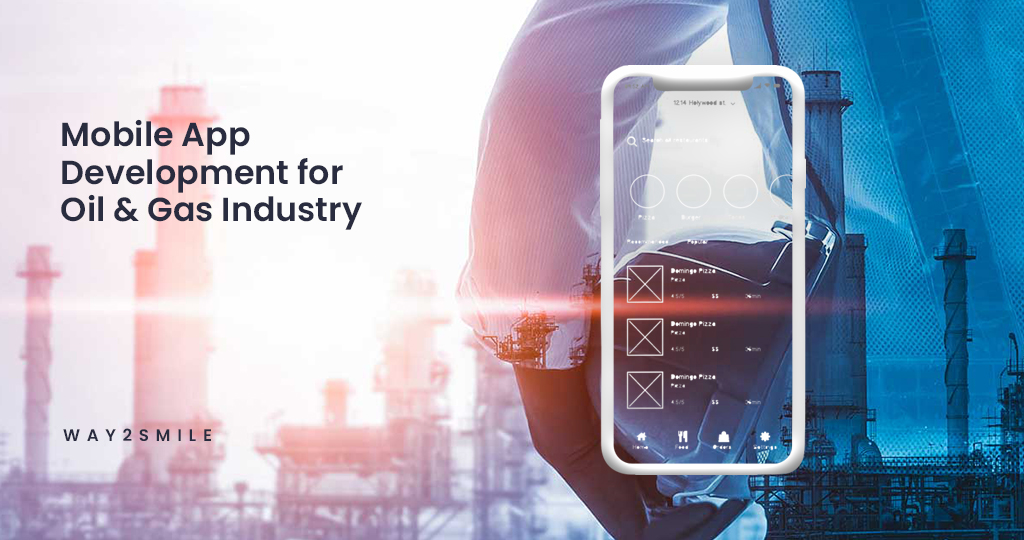 Reading Time:
6
minutes read
Overview: Oil and gas are one of the most high-profile industries in the world. But it is also one of the most controversial sectors in the world, given the amount of wastage, and the umpteen opportunities to optimize operations. As a result, the industry has seen an uptrend in the adoption of cutting-edge technologies, and one of the most basic enablers of this adoption is and will be mobile apps that can help in integrating and streamlining processes in the oil and gas industry. These apps can be used to monitor the status of processes, assets, and resources, which allows the operating company absolute control and visibility. Because these apps can be used by anyone with access to the internet, they can be used anywhere. Continue reading this blog to learn how mobile app development can create a big impact in the oil and gas industry!
The oil and gas industry has existed for nearly a century, with the first drilling rig being brought online in 1901. Since then, the industry has continued to expand and grow, becoming one of the largest industries in the world today. There are many challenges that face companies within the Oil & Gas industry, including high operational costs, as well as limited resources available for use. 
Mobile apps have been shown to help these oil and gas companies overcome various challenges, from drilling to supply and demand, by providing them with more efficient ways to monitor their processes and keep track of metrics related to their success.
According to a study, the global oil and gas industry is predicted to reach $7425.02 billion in 2025 at a CAGR of 6%.  Since the oil and gas industry is characterized by rapid growth and development, which means that new technologies must be adopted to keep up with demand. 
The above stat shows that it is the right time for businesses to adopt mobile applications for the oil and gas industry to generate more revenue streams. Mobile apps can also be used to manage operations and keep track of expenses, which is particularly helpful for small businesses that don't have a lot of resources. 
Why Mobile Apps for the Oil and Gas Industry?
The impact of mobile apps in the oil and gas industry is enormous with the advent of the latest technologies such as AI & IoT. The adoption of these new technologies is prompting oil & gas businesses to explore mobile app solutions that can help access, monitor, and manipulate such tech. The operational environment of the O&G industry is expected to undergo a sea change thanks to mobile apps.
The oil and gas industries need to adopt mobile apps in order to establish a footprint in this new global environment and to explore their potential for monitoring, securing, and automating tasks for oil and gas businesses. Also, technology in the oil and gas industry can help important stakeholders decide how to generate more profits and cut expenses.
What are the various types of Oil & Gas Mobile Applications?
The various types of Oil & Gas mobile applications include:
The upstream oil and gas industry is very complex, as it involves the exploration, extraction, refining, and transportation of natural resources. The process of extracting crude oil from underground rock formations is extremely labor-intensive, making it an attractive area for automation solutions. Mobile applications from sustainability consulting firms are an ideal way to automate many aspects of this process. 
Upstream mobile apps are designed to help the operator gain control over their business. The operator can use these apps to ensure that they are operating at peak performance by providing real-time information on everything from production levels to asset utilization. 
These apps are also used to track assets, monitor production, and gather information about production. They also help to identify potential problems early on. Because these apps are such an integral part of their operations, it's essential that they work well and offer a high level of customer service. The need for SDG-based technology solutions is especially critical for the industry at this time to limit ecologically destructive practices. 
Midstream is the term used to describe the process of transporting natural gas, oil, and other products between production sites. It is the part of the process where oil & gas is extracted, transported, and sold. The sub-industries that operate in this part of the process are responsible for maintaining the pipelines that transport the oil and gas to various regions. They are also involved in a variety of other activities such as pipeline management, pipeline construction, pipeline repair, and so on.
Midstream companies often have a lot of data stored on their systems, which is why it's important to make sure that all of that information is stored in a secure way. The oil and gas industry, after adopting mobile apps, has been able to easily manage everything from field workers' schedules to maintenance records. These apps ensure processes run smoothly and efficiently, without delays or errors.
These mobile apps help create reports based on data collected from assets, track changes made to those assets, and easily share that information with the rest of the team in real-time push notifications or via email and text messages.

Downstream mobile apps in the oil and gas industry can help you stay connected with your customers on the go, as well as gather valuable data about their usage habits. Downstream, or retail distribution is one of the most obvious places for mobile apps since they can be excellent platforms to interact with the customer. These mobile apps can be used to improve the experience for your customers, whether it's through direct communication or more passive means like collecting information about device usage patterns. 
These apps can handle all kinds of data for the different departments in retail forecourts, including procurement, marketing, finance, operations, and others. You can use these apps to track inventory, sales numbers and much more. It is important to know that downstream processes can cost your business bigger than upstream ones, so making the most of mobile apps in this area means more profit for your company.
What are the challenges faced in the Oil and Gas Industry?
Keeping Costs Low to Maintain Competitiveness:
In the struggle for profitability, oil and gas businesses must overcome significant obstacles. Finding innovative ways to reduce costs and boost efficiency is essential for maintaining competitiveness in the oil industry because oil production and refining may be expensive. 
Making crude oil and refined industrial products through more affordable means is one-way businesses can increase productivity. The benefits of using mobile apps for the oil and gas industry include increased production efficiency, and cost cuts on extraction and refining expenses – all this by simply automating the process.
In order for oil and gas businesses to maintain their supply of crude oil or gas, the life extension of mature sites is a crucial requirement. Oil and gas firms are currently exploring alternative approaches to oil and gas, which definitely require more expensive and difficult extraction, transport, and refining processes. As a result, the oil and gas business must ensure that its plants are stable and do not experience unplanned shutdowns. 
The way these oil and gas companies must conduct their operations is also governed by a variety of regulations. To help businesses manage these issues, software solutions help them stay on top of their operations and make informed decisions about what's happening in their business. 
Compliance with Environmental Laws:
Oil and gas companies have been facing tough environmental regulations for a long time. The new standards have put a lot of pressure on oil companies to come up with new ways to reduce their carbon emissions. In order to meet these new standards, oil companies have started looking into mobile apps that can help them track their emissions data in real time and make sure they are compliant with the regulations.
Mobile apps for the oil and gas industry will not only help them reduce their carbon footprint but will also give them access to more information about how their operations are affecting the environment around them.
Final Thoughts:
The oil and gas industry has had great economic value in the past, and present, and will continue to do so in the future as well. But still, there are technologies lagging behind in this oil and gas industry for complex reasons. It is possible for any business to take this up as a challenge and break down the barriers in the oil and gas industry by adopting mobile apps to manage their day-to-day operations efficiently. You can hire our top app developers in Dubai, who offer professional support for startups, enterprises, and governments with oil and gas mobile app solutions at a low cost to improve business performance and save costs on resources.