Incredible Benefits of RPA that will Power Up your Business
Incredible Benefits of RPA that will Power Up your Business
Reading Time:
4
minutes read

The complete essence of dealing a business is vastly impacted by the way how customer care is provided. On progress, if the right technology tools are utilized within the business then serving to every customer demands can become quite easily and achievable at an imperial quality. The latest technology in initiating the customer care and service can be offered innovatively using Robotic Process Automation. It should help any business to improve its process efficiency along with workplace productivity.
The prominent role of RPA Applications can be accessed to produce the throughput of customer service while for enterprises it could automate a number of routine task in quick time mitigating the most labour intensive tasks. The Grand View Research states that robotic process automation would in reality will have a market size net worth of USD 3.97 billion by 2025 year. We have this article written to convey all these benefits of RPA that realizes in strengthening business with RPA Automation.
Why RPA Automation for Business?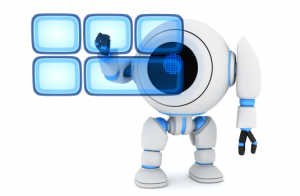 There are a numerous Organizations that have integrated RPA Automation into their business purposely, to automate the most repetitive, logical and structured data related tasks and then improve operational efficiency by several folds. It will result to more no of businesses adopting to this intuitive method of data integration at a swift processing rate therein enhancing their process workflows. According to Forester Consulting Study the impact of handling RPA together with business process is expected to venture the improved employee engagement and experience, approximately to 87% of work efficiency.
Read Also – The UAE Strategy for the Fourth Industrial Revolution (Industry 4.0)
In this way, Companies working on RPA Automation may find it inexpensive and affordable to render customer service that results to identifying customers and give them the on time support with a unique customer view. Moreover, employees can expect to gain around 67% of deeper insights on customer service and then enjoy the incredible benefits of a fully engaging workplace environment. Business will become up to data to furnish the latest information to the customer and then eliminate the postponement of time effectively across processes.
Use Cases of Robotic Process Automation in Business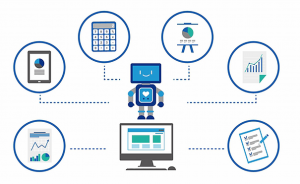 Robotic Process Automation Companies think of integrating RPA into Chat Bot and then secure every customer service request with a prompt response
RPA also has the ability to quickly respond to customer chatbot applications without the need to pass the interaction to a human agent
With RPA Automation you can create the self-service option for your customer and then sanction a range of permissions to access to different kinds of back-end applications
Robotics Process Automation Companies will be at the forefront of having a secure sign-in process accompanied by encryption of employee's credentials
RPA can transfer multiple employee security without the occurrence of errors thus adding to an enhanced data quality, consistency and total compliance
In the end, robotic process automation can provide enterprise with a standardized reliable process generic across business channels.
Read Also – Wearable App Trends That May Dominate the Business Landscape in the Upcoming Years
Benefits of RPA in building Customer Service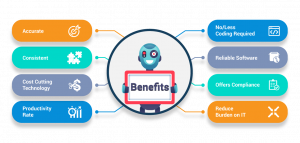 In specific, reducing the cost would counteract in improving the employee efficiency with RPA Automation proving to be too good on ensuring cost savings. In scenarios, where business embrace RPA System the average handle time for customers is way more diminished with only least processing cost.
Normally, every business requisites the need for dealing with many applications or transit from one to another, leaving redundant no of applications over the desktop systems. Companies working on RPA will get their customer the contextual information needed for managing workflows especially through pulling necessary applications on demand.
Besides, RPA is making errors void on processes it also helps in achieving process predictability, total compliance and adherence to regulations. In addition, RPA can record all the changes and transaction records within a process and then anonymously interface it to the individual business unit. Finally, the RPA Automation can even be configured to a particular business model and activated for detecting the changes happening in the background to keep workflows updated.
On some occasions business agents would be put under a big strain for searching and capturing customer information's from dissimilar systems. When RPA is used the agents can at once look into specific processes to find for the particular customer information and then edify the unnecessary lead times, and move further ahead to better support experiences.
Read Also – Speed Up Your Business Growth with Cloud Mobile App Development
Basically, the deployment of RPA System is compared to placing a new layer over the existent infrastructure that would self-improvise every time to automate its functions. No more enterprises will be required to mobilize its resources with the presence of RPA Solutions which streamline workflows. This also hints enterprise business to stay away from replacing assets that were once place earlier.
Take Away
Over time RPA Automation might prove to be the default game-changer for businesses to manage its customer support and service offerings more intuitively. A typical enterprise posing the risk of handling a huge volume of customer-facing applications would mandate the adoption of process automation robotics to speed up systems. However, there will be more demands for RPA Automation Technology within the many enterprises to achieve a good ROI.