Press Release: Launching DigitalWorkSmart – A platform that simplifies your Digital Transformation Journey
Press Release: Launching DigitalWorkSmart – A platform that simplifies your Digital Transformation Journey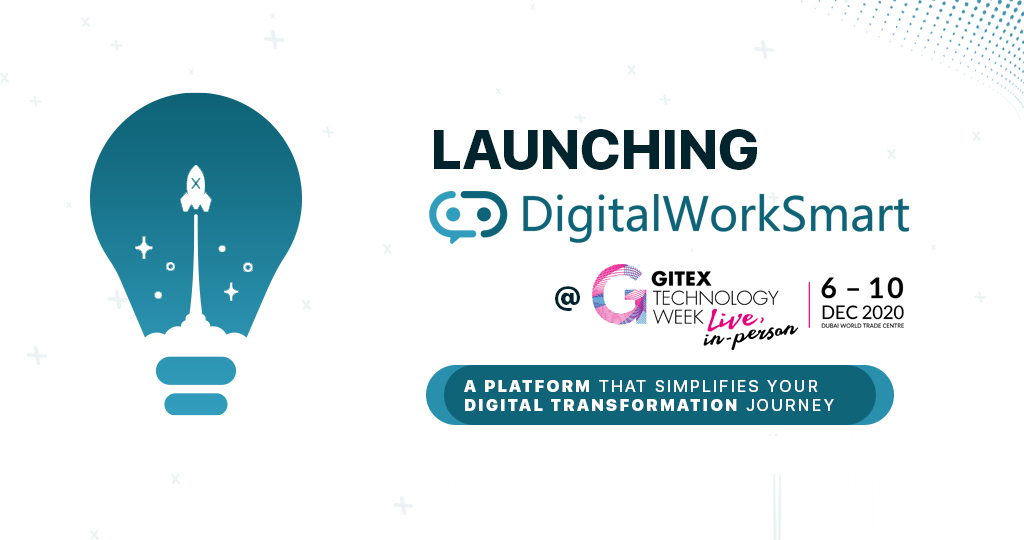 Reading Time:
4
minutes read

We at Way2Smile Solutions are excited to launch DigitalWorkSmart at the GiTEX Technology week on 6th December 2020 at Dubai World Trade Centre. We believe that our DigitalWorkSmart solution is right on time for our industrial/engineering/parts customers who want to achieve operational and management efficiency across departments. Our customers have spoken, and we have listened, to help them improve, digitalize existing processes and communications within the organization and ensure the best customer experience.  Our solution will help your company to move into a sustainable, digital future and WorkSmart.
Statement from our CEO, Madhu Kesavan:

As most of us know, Digital Transformation is a process and not a project. Now external factors are pushing every business to get into digital transformation and it's not that easy. As this is a process, businesses are looking for platforms which can be easily scaled or customized for their Industry. That's precisely our DigitalWorkSmart solves the problem! We curate, innovate and bring features which simplifies the customer's journey and reduces the Investment requirements. No matter what size the business is in, our platforms and services will be great fit. 
DigitalWorkSmart
What if you could manage your teams across departments, even in the field,  maintaining close communication and instant direction? For example,  Sales and Technical teams could be dispatched from the home office, and en-route information could be shared such as customer update, materials needed, and or send request added manpower or resources or technical equipment requests.
Team member locations are revealed via GPS and teams can video conference when necessary in order to share a clear picture of a technical issue. Dynamic forms are also possible to create from template to design, ensuring orders are made and work orders signed off quickly and efficiently. Just working smart, saving time and money.
Improved Customer Experience
In today's competitive landscape, making sure your customers are satisfied is key.  DigitalWorkSmart will provide your teams with customer intelligence instantly, the ability to promptly respond to customers' requests and resolve their problems quickly and efficiently.
A good customer experience is key to maintaining a valuable market share and retaining a valuable customer base.
Operational Efficiency
How much of your time is wasted on inefficient customer service calls, incomplete or incorrect customer/account and technical information provided to your teams?  What if you could send instant messaging on route to your team?  What if you could video conference to solve customer/account issues or technical issues quickly?
Communication amongst team members could be instant and video conferencing would enable instant assistance to technical diagnosis and adding is sending correct equipment/parts avoiding unnecessary delays.  Saving time translates to saving money. 
That's why your business needs to move to the next level of efficiency with DigitalWorkSmart.
Benefits:
Digital transformation for your business

Your teams will improve communication, across departments and with customers

Your business will save time and money avoiding inefficient customer/prospects visits, call-backs

Improved overall customer experience

Dynamic forms allow for the creation and completion of orders, sales orders, parts orders and service orders, for example. 

Helps implement the Do-It-Right-The-First-Time philosophy and practice

User-friendly and easily adapted to your specific needs
But there's more…
Part of our growing efforts in sustainability, it's Green. We ensure affordable and clean energy for the  Industry with DigitalWorkSmart. Our solution helps in shaping the industry by reducing the Greenhouse gas impacts on the environment. The features such as Route Optimization, Real-Time Tracking, Location Accuracy, and Driver Management enable us to reduce the waste of energy in any form. Green, sustainable solutions help future-proof your business.
Value Added Features:
Route Optimization

Real-time Tracking

Location Accuracy

Driver Management

Instant Communication

SMS

Video Conferencing

Dynamic Forms

GPS
Isn't it time to move your organization into the sustainable future!
Related Press Release – Revolutionary Delivery Management App ManageTeamz 3.0 set to launch in GITEX 2020
About us :
Way2Smile Solutions is a Technology company that delivers Digital Transformation solutions to Enterprises and Governments. With more than 20+ years of experience in IT consulting, 10+ years of existence in business, and 100+ employees in 4 countries, we provide results oriented Digital Transformation for your organization. 
Please reach out to us or read more on our website. 
Website: www.way2smile.ae | Phone: +971 55 818 7507 /  04 5705 745 | e-Mail: bd@way2smile.ae
Follow on Social Media
Related Press Release – Way2Smile is now an exhibitor at 40th GITEX Tech Week 2020!