Top 9 Food Delivery Apps in Dubai UAE to Help You Overcome Your Hunger Pangs
Top 9 Food Delivery Apps in Dubai UAE to Help You Overcome Your Hunger Pangs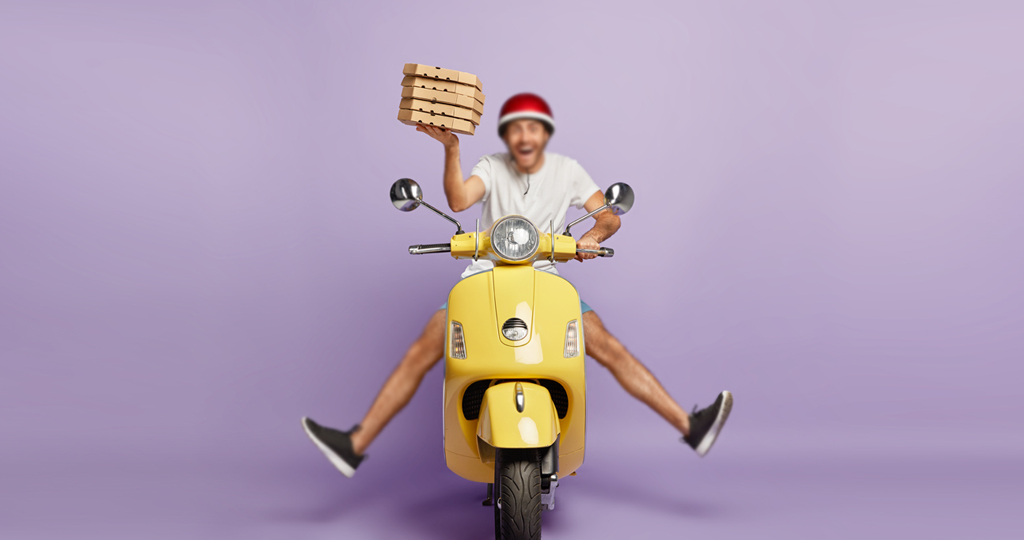 Reading Time:
9
minutes read
Do you ever want to avoid the kitchen on days when you're not in the mood for cooking? Food delivery apps in the UAE are here to satiate your hunger. Food from your favorite restaurants can also be ordered through these service providers for birthdays, weekend parties, and other celebrations. Nonetheless, if you want your food to be delivered safely, securely, and on time in Dubai, then you need a dependable food ordering app. In addition, to ensure that each customer is treated like royalty, online food ordering apps must collaborate actively.

The on-demand food delivery business is quickly becoming one of the most profitable in the world. People order food using mobile apps, but they only order traditional and halal foods. To that end, this post will highlight some of the best food-ordering apps for UAE residents. Deliveries from any restaurant in the UAE can be ordered through some excellent delivery apps. To find the best food delivery app in Dubai and other major cities in the UAE, here are the nine most popular food delivery apps you should keep in mind.

Let's get started!
Best Food Delivery Companies in Dubai UAE
The options for meal delivery services in Dubai and other cities in the UAE are abundant, with a variety of food delivery apps catering to diverse culinary cravings. These apps range from those offering a delectable selection of Biryani to Madrouba. The city boasts a number of popular apps, each providing unique features such as location-based deals, loyalty programs, and convenient digital menu cards. To assist you in selecting the best food delivery app in Dubai, this top nine list of food delivery apps will provide a thorough comparative analysis, highlighting their competitive advantages.
Moreover, this list not only helps you discover the top restaurant suppliers in the Middle East but also provides insights into price comparisons and order tracking features. These UAE-based food delivery apps ensure that you can satiate your cravings for a wide array of delectable cuisines conveniently and efficiently.
Deliveroo

Talabat

Careem

EatEasy

Eat Clean

Munch: ON

Noon Food

Locale

Carriage
#1. Deliveroo
Deliveroo is a well-known food delivery app in Dubai that allows you to select from a variety of nearby restaurants. The app's best feature is that it provides you with affordable food. Amazon has recently invested heavily in Deliveroo, and for good reason. There are several reasons why Deliveroo gets a place at the top of this list.
Deliveroo Dubai is a popular food delivery app in the UAE, with millions of users every day. 

Deliveroo now operates in over 200 cities worldwide, including the United Kingdom, Europe, and the United Arab Emirates. 

This online food delivery app in UAE also allows you to track your order's progress from cooking to delivery. 
Available for both Android and iOS devices, Deliveroo is widely available in Dubai's professional centers. Furthermore, they are currently offering new customers free delivery for up to 14 days. Simply click on the 'Discover' tab to narrow your search to what you want to eat that day, and the app will quickly display a list of suitable nearby restaurants and cafes. Simply leave a note with your order so that the dish isn't too spicy for you. Furthermore, they are currently providing new customers with free deliveries for up to 14 days.
#2. Talabat
Over the centuries, Talabat has built a reputation for excellence, reliability, and cost-effectiveness as one of the most dependable online food delivery apps in the UAE. They have dominated the food delivery market with their skilled workforce, a roaring customer support system, and efficient & transitory order fulfillment operations. Talabat's productive qualities work like magic for Emiratis all over the UAE. Thousands of different food hubs located nearby allow you to browse through various cuisines. This app also eases the process of ordering food because –
Find a restaurant, order your meal, and enjoy your food!' is their slogan, and it lives up to the hype that Talabat is known for.

Foodies in the UAE have grown accustomed to Talabat because of its fine dining experience.

As a new customer, you can browse through a variety of menus coming in from popular and new restaurants all around you.

Talabat is also a popular mode of business for food delivery agents because this online food delivery app allows customers to leave large tips ahead of time.
Of course, this sense of dependability and trust stems from Talabat Co.'s unparalleled service, which is nothing new. Once you've found your favorite cuisine, you can confirm it with a click and pay instantly with either a debit card or COD. When using the guest checkout option, you can use this app without creating an account. Talabat offers a dedicated user panel, delivery boy panel, and restaurant panel to handle orders from online sources in the food industry. The app is available on both Android and iOS devices.
#3. Careem
Careem, a ride-sharing app based in the UAE, offers the best food delivery in Dubai through this app. With a single tap, you can reorder your favorite orders. According to Google Play store statistics, over 100 million people have downloaded the app. Due to the ongoing pandemic, the company has gained 30% more customers since March 2020. Furthermore, Careem adheres to proper hygiene practices when delivering food to its customers. Careem should be your go-to best food delivery app in Dubai for the following reasons,
Careem has a rewards system in place where customers can earn and collect points for certain dishes and restaurants. 

You can also benefit from the Gold Wave if you place frequent orders. 

Real-time tracking of your food is possible. 

Reordering is as easy as tapping and remembering your favorite orders. 
With both Android and iOS accessibility, the app also has a dedicated tab for offers and discounts, allowing you to quickly select the best deals.
#4. EatEasy
Next on this list is the well-known Fantasy, which is the best restaurant food delivery software in the UAE that services loyal customers. It's a fantastic hybrid app that provides excellent food ordering services throughout the neighborhood. There will be no surprises at checkout because you will be able to see all of the basic information at a glance, such as the minimum delivery charges, estimated delivery times, and accepted payment methods. It also has a number out of 5 next to the name of each restaurant, which is an online rating of how good the restaurant is. It even has a cashback point system, so you'll end up saving money that you can use to buy yourself a free treat one day. Give this flawless app a try to satisfy all of your food cravings for the following reasons,

It includes hundreds of delectable restaurants, pharmacies, and grocery stores. 

This UAE-based food delivery app has over 1200 restaurants to check out all the options nearby, whether you're craving Burgers, Pizza, or Biryani. 

This app allows you to purchase items such as food, confectionaries, groceries, medicines, plants, and flowers. 
Each restaurant will have a different time limit for how long the delivery will take, the delivery charges (some are even free), and if the eatery has a minimum order requirement. The app is available for both Android and iOS users.
#5. Eat Clean
This online food delivery app in the UAE is the ideal meal delivery app for anyone who is health-conscious or has specific dietary restrictions. Clean Eat, a healthy food ordering app in Dubai, fills a void that other delivery apps in the city still need to fill. Once you've found the plan you want, you can purchase it through the app from any reputable service provider in Dubai. Clean Eat is yet another fantastic food ordering app that not only sells dishes but also creates a meal plan for those who are dieting and want to lose weight. This food delivery management software offers meal plans for the day, week, and month. Choose from a variety of healthy meals and pre-planned meal plans. Eat Clean offers you the following options for a tasty yet healthy diet,
Low-calorie meals, vegetarian diets, fitness build-up meals, and other options are available. 

Choose a food course and pay for delivery charges ahead of time. 

You can also pay in advance for the 3-4 week meal plans by using the Eat Clean app. 

You can also change the daily deliveries, which include three meals and two snacks. 

To maintain a healthy lifestyle, order healthy yet delicious vegan food that is low in calories. 
The app is accessible to both Android and iOS users. Their goal is to provide healthy food options such as Keto, gluten-free, and athletic food daily.
#6. Munch: ON
Another noteworthy option is Munch: On, which is referred to as Lunch in Dubai. It stands out as a top and cost-effective choice for food ordering, especially catering to individuals with busy schedules who seek to order daily meals during their office hours.
Highlighted below are some key attributes of Munch: On that have garnered high praise among middle-class Emirati users:
Get weekly recommendations, fantastic offers, and discounts by simply signing up. 

If your lunch break hours don't align with the restaurant's operating times, you can also pre-schedule your food deliveries to avoid any inconvenience.

This app also provides a diverse cuisine selection, timely delivery, and affordability.

Munch: On which is available on both Android and iOS devices, primarily caters to the working-class and middle-class Emiratis, which is why it enjoys popularity among busy working individuals.
#7. Noon Food
Noon Food is a relatively recent addition to the food delivery scene, operating in Dubai, Abu Dhabi, and Sharjah. It made a notable entrance by providing a generous 50% discount on the initial order for all customers, quickly gaining a significant market share. The platform boasts a straightforward user interface and adaptable payment methods, enhancing its convenience for users. In addition to these Noon food offers,
A central dashboard offers real-time updates, allowing users, restaurants, and drivers to track the progress of food deliveries efficiently.

Low delivery fees.

A vast selection of thousands of dishes ensures an extensive and diverse culinary offering, catering to various tastes and preferences.
Moreover, the app is compatible with Android and iOS, making it accessible to a wide range of users, regardless of their mobile device preferences.
#8. Locale
The locale app focuses on local communities, connections, and exceptional neighborhood dining. While most food delivery apps feature a vast range of restaurants and dishes from all over the UAE, Locale takes a different approach, it provides a curated selection of partner restaurants with regional specialties, helping users explore and savor local flavors, encouraging culinary adventure. Additional features of Locale include,
Locale's user-friendly interface simplifies exploring and ordering from its wide range of selected local restaurants.

Locale suggests local specialties, guiding users to savor regional flavors, and providing a unique and authentic culinary exploration.

Community networking opportunities provided by this app enable users to connect, share experiences, and recommend local favorites.
Locale is available on both Android and iOS. This app is ideal for tourists eager to savor UAE's local delicacies and explore the culture.
#9. Carriage
Last but certainly not least, Carriage takes the final spotlight as an outstanding alternative among Dubai's food delivery apps. Its exceptional speed and interface ensure you won't be left hungrily staring at your screen while awaiting your order, making Carriage a preferred choice. Despite featuring a smaller catalog of restaurants, its prompt service remains a compelling factor for users.
Even if the app has a low number of restaurants listed, Carriage provides an extensive selection from over 200 restaurants in Dubai.

You can track your orders in real-time with their live order tracking feature, ensuring you know exactly when your delicious meal will arrive.

Enjoy our user-friendly app interface and budget-friendly pricing, making your food ordering experience convenient and economical.
This app is accessible on both Android and iOS devices. With a remarkable 40-minute average delivery time, this is the quickest among all the listed apps.
Key Takeaways
The food delivery industry in Dubai UAE is experiencing rapid growth, driven by the convenience and diversity of options offered by various mobile apps.


With numerous food delivery apps in Dubai and other UAE cities, consumers can access a wide range of cuisines and dishes from both local and international restaurants.


The speed of delivery and a user-friendly interface are essential factors that determine an app's success in the highly competitive food delivery market.

Different apps offer unique features such as local specialties, real-time order tracking, and attractive discounts, catering to diverse consumer preferences.

Without making you any hungrier, let's not waste a second and get to know the best food delivery apps in Dubai and across the UAE where you can order your favorite food.
Conclusion
Getting the entire family together is easy when you cook. The restaurant food delivery software in UAE mentioned above are just a few that are recommended to get you started. Although customers can access a user-friendly experience via an application, it is necessary to collect relevant information about it to achieve the desired result when ordering food online via the application. Food delivery services are being forced to adapt and reinvent their procedures and offerings as the online meal delivery market evolves and competition increases.

If you're an entrepreneur considering investing in the development of an on-demand meal delivery app and are concerned about the food delivery app development cost in Dubai, your top priority should be to provide added value to your customers. Ultimately, when it comes to food selections, we all want the same things: exquisite taste and remote ordering convenience. Way2Smile Solutions is a leading mobile app development company in Dubai with talented full-stack developers, designers, and project managers with prior experience managing clients for food delivery services.
Contact us!
Frequently Asked Questions

1. Which food delivery app is the best in Dubai, UAE?


The choice of the best food delivery app can vary depending on personal preferences and location. Some popular options in Dubai include Deliveroo, Talabat, Careem, and others. It's advisable to compare features, restaurant availability, and user reviews to find the one that suits your needs best.

3. Do food delivery apps in the UAE offer food from different cuisines?


Absolutely yes! Most of the food delivery apps in the UAE provide access to a wide range of cuisines, including local and international options. You can explore menus from several restaurants listed in these apps.

4. Are food delivery apps in the UAE safe and secure?


To ensure safe and secure food deliveries, it is essential to choose reputable restaurants that are listed on these apps. Also, consider choosing apps that offer real-time tracking of your food. Other than this, the UAE is a relatively safe country, so you can throw away any doubts about the safety and security of your food deliveries.