GITEX 2022 and Its Forecast for the Future of Mobile Application Development
GITEX 2022 and Its Forecast for the Future of Mobile Application Development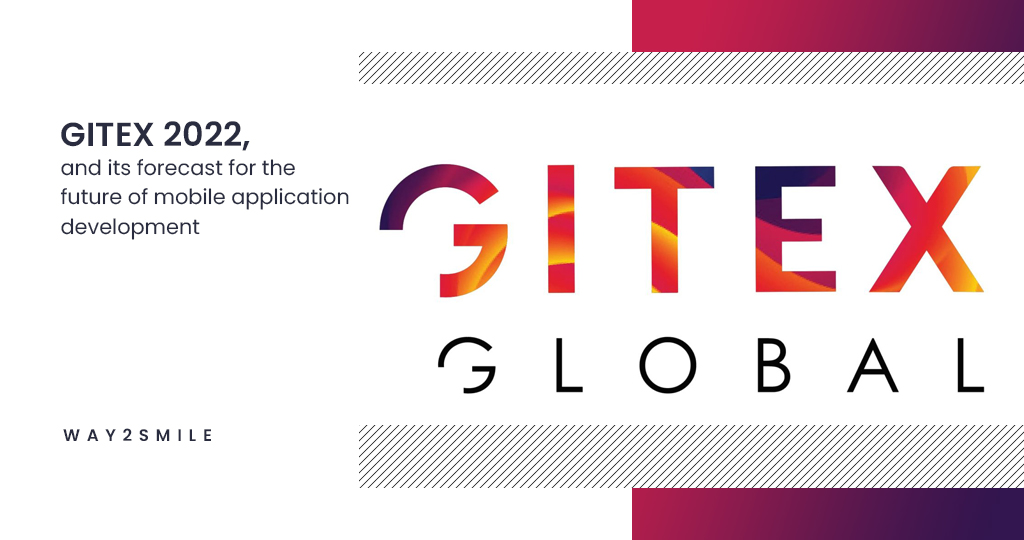 Reading Time:
4
minutes read
The GITEX 2022 conference is focused on the world's digital transformation and is conducted every year. It is a showcase of the most cutting-edge tech innovations of that year and invites innovators and entrepreneurs from all around the world to be a part of the showcase. It was conducted this year, in Dubai between October 10 and 14, 2022.
The event aimed to serve as an opportunity for enterprises and individuals to learn about the latest developments and technological advancements that are reshaping the way business is done worldwide. It also explored how these innovations could positively impact society at large.
GITEX 2022 was attended by thousands of delegates from all over the world and featured a vast array of speakers including industry leaders, government officials, and renowned entrepreneurs who shared their insights and experiences with attendees. 
The conference offered several sessions throughout its five-day duration. These include workshops on topics such as 5g, AR & VR, Wearables & IoT, AI & Chatbots, and Cloud-based apps, among others.
Let's explore what the future holds for startups, enterprises, SMEs, and governments after adopting mobile application development for their business growth!
What is the future of Mobile Application Development?
It is the future, and mobile applications play an immovable role in our lives. What does this mean for businesses though? It means that you have the opportunity to do more with the tech advancements we have at hand, presented to the world at GITEX 2022.

Mobile devices are getting technologically advanced, so your apps need to be able to evolve with them. Mobile applications are no longer just about getting information from and to the user; it's about helping them get things done, with ease and speed. And that is offering you a huge opportunity to transform your business!
What are the top 5 mobile app development trends highlighted at GITEX 2022?

#1 5G 
5G technology is changing how we interact with mobile devices. It offers faster download speeds and improved reliability. This means customers will be able to use your mobile apps on their mobile devices for purchasing clothes or playing games virtually online without worrying about any lag or data usage limits. 
With 5G technology being rolled out across more countries than ever before, now is a great time for you to get started on developing innovative mobile apps that take advantage of these new capabilities!
#2 AR & VR

Augmented reality and virtual reality are gaining more traction in the tech-driven world. By combining physical objects with digital information, AR allows you to see and interact with the world around you in a new way. 
VR on the other hand immerses users in a completely different environment by using a 3D rendering of graphics, audio, and haptic feedback to create immersive experiences.
This technology is not going to end with the gaming industry alone though; it has started to evolve with industries from retail to healthcare. You can adopt AR/VR technology for your business to improve your product showcase online and attract customers' attention.
#3 Wearables & IoT
The mobile app development industry is booming after wearables and IoT created a big impact in the market. These gadgets are in great demand among people today, as they can connect smartphones to wearable devices for the exchange of data. Health monitoring wearables can monitor electrocardiography (ECG), electroencephalography (EEG), temperature, and other medical parameters.
Sports wearables consist of different metrics for tracking users' daily activity and performance. All these wearable apps are able to collect the users' data with the help of IoT technology. Wearable IoT devices for mobile apps are currently trending in the market since people have become more health-conscious, and it's the perfect time for businesses to generate more revenue in this field.
#4 Chatbots & AI
In today's age, chatbots and AI are a necessity for businesses. It has completely changed the way we interact with technology. Not only have they made messaging more efficient, but they are also transforming the way we interact with our phones and tablets. Chatbots are like virtual assistants that have become a key part of our lives, whether it is for shopping, banking, or just about anything else.
They can also perform tasks on your behalf, such as scheduling meetings or sending reminders about deadlines. With AI, you can analyze customer data and provide personalized recommendations based on user preferences and past purchases. Businesses are now driving towards acquiring chatbots and AI technology to manage their business operations and save time and resources.
#5 Cloud-based Apps
Cloud computing has become an important technology for the mobile app development industry to boost productivity and business operations. Cloud-based apps are customized for smartphones and tablets to manage internal storage, speed up data transfer, and improve the user experience to run the apps faster.
You can make use of these cloud-based apps to advance your products and services, improve customer experience, and transform your business based on your future customer needs. Security is always a top priority when it comes to cloud-based apps since they can detect threats and protect all the data before a problem arises. Leverage cloud-based apps for your business to store your data safely and make it easy to back up data during unwanted situations such as natural disasters or system crashes.
Final Thoughts:
The future will see a shift away from static websites towards more dynamic interfaces in mobile apps that allow you to interact with them effectively. It's important for you to keep up with this trend because it's something that could make or break their business if they don't get on board early enough. The best way forward? Get in touch with a leading mobile app development company in Dubai to take advantage of the latest mobile app solutions by using them as launching pads for your own applications.