Impact of Corona Virus on SMEs in UAE: Should they digitally transform?
Impact of Corona Virus on SMEs in UAE: Should they digitally transform?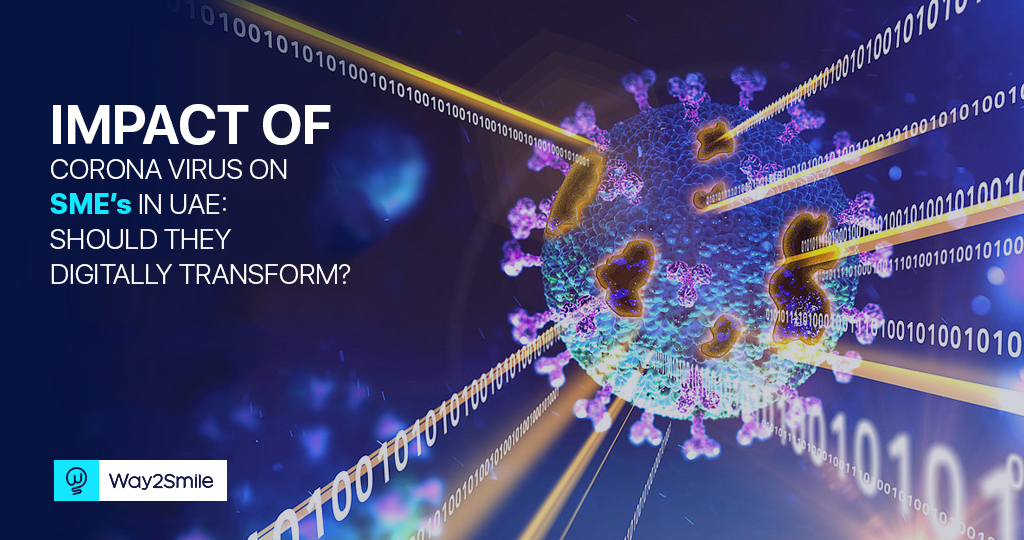 Reading Time:
4
minutes read

Corona Virus has made drastic changes to global organizations of all industries. It has already been a year since this virus has emerged which no one would have imagined. Moreover, it is already a challenging task to recover and bounce back the businesses to normal. 
Mohammed bin Rashid Al Maktoum, The honorable Vice-President and Prime Minister of UAE have said, "Anyone who thinks the world will be the same after COVID-19 will be mistaken"! The world will not be the same after COVID is interpreted. What would be the impact of this virus in the UAE? Has this COVID crisis made SME's digitally transform? We have discussed these in detail in this blog.
Impact of Corona Virus on SMEs:
In these unpredictable times, small and medium-sized companies are turning to implement digital technologies and keep their businesses apart from the crowd. It has been said that SMEs account for 94% of companies in the UAE and employ nearly 90% of the private sector workforce it seems!
Read Also – How to Start Your Company's Digital Transformation in 10 effective Steps?
Additionally, if you check with other sectors such as Healthcare and Diagnostics, how would they perform their business operations effectively? Can digital transformation help them to survive and come out of this COVID crisis?
With the Educational sector, will distance learning be successful? Can students find this to be an effective way of learning? Will the adoption of new technologies help businesses to easily evaluate the performance of the employees?
Each sector is filled with different kinds of opportunities when looking to digitally transform their own businesses. This COVID-19 can lead to business transformation in a hassle-free manner. 
In particular, the UAE is moving as a leading Digitally transformation country across the major sectors in the world. This country has realized the importance of digitization and is working hard to implement it which could make the dreams of budding entrepreneurs true. 
In the year 2000, the UAE has set up Dubai Internet City (DIC) where global ICT companies are operating which composes of around 1600 technology companies. After the launch of DIC, the UAE has launched eGovernment and eDirham. eDirham is the digital way to pay and collect amounts for government services. 
Read Also – Digital Transformation in Financial Services
With this, government services are now available online in the UAE. Moreover, this country ranks 6th in the global online index while 17th in the eParticipation index across the globe.
Role of Digital Technologies in UAE:
Furthermore, the UAE Government has introduced the "UAE Strategy for AI". AI has played a great role in controlling the speed of AI in the country. One of the live examples is, Police making use of Smart Helmets with a thermal camera to detect the infected ones in the COVID-19 to encourage safe distancing. 


The helmets also had sensors that could recognize faces and vehicle plate numbers. With this recognition feature, one could easily detect the person behind it and prevent them from mingling with the crowd. 
In addition to this, Robots and Drones were also adopted to sterilize the streets. These devices are responsible to spray mist as paramedics to sanitize. It also detects the movements and sprays the disinfectant only when the person passes by thereby saving energy.
AI when combined with other advanced technologies such as Big Data, Blockchain can work effectively. To work with Big Data, the government has framed a few strategies:
Launched Open Data guidelines.

Adopted Open Data Policy.

Launched Dubai Data Strategy with the motto of optimizing the data for data providers.   

Passed the Dubai Data Law with an aim of protecting the data and privacy.
Next comes the Blockchain which the government has launched the Emirates Blockchain Strategy 2021. With Blockchain, the government has expected to perform 50% of transactions that will happen in this platform by 2021.  
With this, here are the things that can happen:
AED 11 billion in transactions and documents are processed routinely.

398 million printer documents a year.

77 million hours of working annually.
Changes to expect with Digital Transformation:
Irrespective of any industry, here are the following changes one can expect by adopting digital technologies:
As discussed, every sector is going to work from their remote location which can cut down various costs for both the employees, customers, and the organizations. It includes rental, travel, electricity expenses, etc. 
Transactions are in a lightning speed when compared to traditional way of transacting them. SMEs can benefit from implementing Digital technologies to get hold of faster transactions and all the payment issues are resolved. 
With digitization, there is no need for a paper to keep track of your business operations. Everything will be stored online and hence accessing it will also be hassle-free. In the case of paperworks, there are chances that it may be lost and hence the data wouldn't be retrieved. But here, it is impossible to lose the data or failing to retrieve. 
These can also be great business ideas for covid-19 which can help in scaling the industries to the next level. 
Read Also – Digital Transformation in Dubai: What's Next for the Oil & Gas Industry?
Conclusion:
UAE being the most developed and fast-growing digital transformation country will start enjoying the above things without any doubts. This is just going to be the beginning, we can expect a lot more to come beyond the boundaries. 
If you are an SME, you can think of adopting digital transformation which can double your business revenues! Rated as one of the top digital transformation companies in UAE, we can help you with the work done!
Just fill out the form below to contact us! We're excited to know your requirements and work on them effectively!