The Importance and Benefits of App Store Optimization (ASO)
The Importance and Benefits of App Store Optimization (ASO)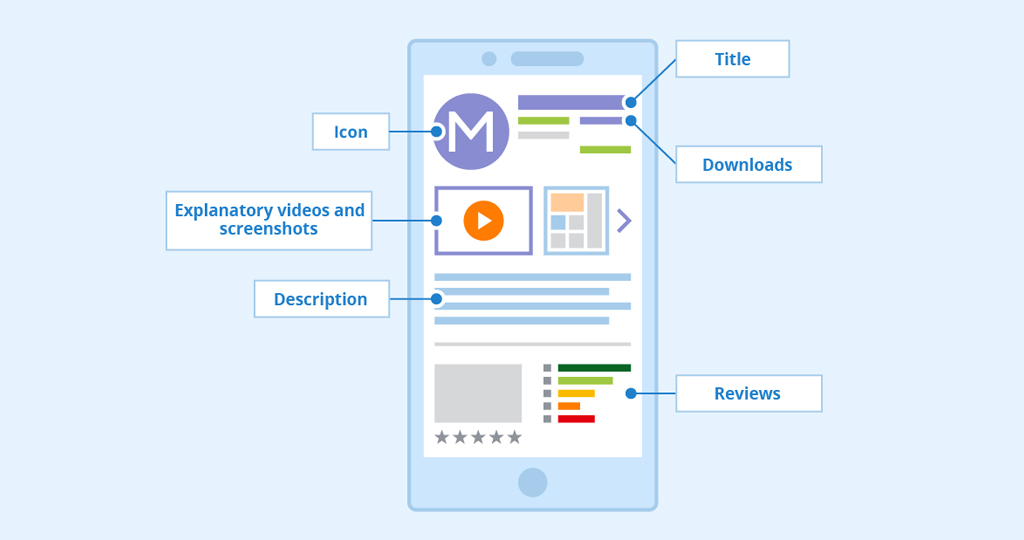 Reading Time:
4
minutes read
ASO or App store optimization is the process of optimizing mobile applications to rank higher in respective app stores' search results. It is something that is often overlooked by mobile app development companies and app marketers. After an application is developed and uploaded to the app stores, the app marketers tend to emphasize on marketing strategies that revolve around paid advertising, social media, and blogging, among other possible marketing channels. However, app marketing isn't limited to these aspects and in order to drive potential customers to the app store page, App Store optimization is a must. Mobile app development companies have recently understood the significance of App Store optimization and therefore they have started working on different app marketing techniques to ensure that their apps appear on top of the app store search results.
There are different aspects that influence ASO. It can be negative user reviews, poor choice of screenshots, or ambiguous app descriptions. All these can result in users not even considering downloading your app.
With that being said if you want to increase the visibility of your app in all app stores resulting in increased downloads, then App Store optimization can be considered your 'Weapon X.'
In this post, we will learn everything you need to know about ASO and why it should be in your app marketing plan.
Let's get started.
The Importance of App Store Optimization on your app's Success 
What is the main aspect that catches the eye of the user when we talk about mobile apps? Features, of course! However, in order for your app to gain recognition in the market, its features must be endorsed through the efforts of different app marketing strategies that incorporate ASO.
Simply put, App Store Optimization is a popular form of digital marketing in which marketers work to increase the online visibility of the app and its features. In other words, ASO is all about improving the online visibility of the app in the list of app stores' search results pages.
App Store Optimization is a bit similar to Search Engine Optimization (SEO). In a nutshell, it first considers the mechanism of search engines and then functions as per the computer-programmed algorithms. There are numerous aspects considered by the algorithms such as which search engine is opted for by the users to search their queries, the topics people are searching for, terms or phrases used by the users when searching, keywords, and the behavior of the search engine.
In the present scenario, what most mobile app development companies struggle with is attaining the desired ranking for their applications on the app stores.
According to research, more than 60% of mobile applications are discovered through app store searches. This means app search is the most significant way used to discover and download new mobile applications. Thus, it makes App Store optimization an important aspect of all mobile marketing tactics.
How does App Store optimization help your mobile application rank higher?
ASO helps your app gain visibility and recognition in the app stores in many different ways. Some of them include:
Brings more downloads to your application
Increases the conversion rate
Helps the app reach the targeted customer base
It drives more traffic to your app page
Mobile app development companies, especially startups, need to understand that mobile app development is just one phase and in order to make the app successful, they need to focus on marketing. Since people are always online, searching for the latest apps that they can benefit from, App Store optimization can help significantly.
App Store Optimization Best Practices 
Successful app marketing and mobile app development companies use several techniques and strategies to market their mobile applications across the app stores. If you are a startup and developing an app that nobody knows about, app ranking will help you get the app to reach the targeted customer base. The following are some of the tips and tricks used by successful app marketing agencies for ranking their apps higher in the app store search engine results list.
Let's jump right into it.
#1 A Descriptive App Title and Description 
First things first, you will need a headline for your app so that users can identify it. The title of your mobile application plays a pivotal role in indexing your app in the app store. It must include the primary keyword because each text in the title is critical for indexing. The title must contain the exact description of your app. Avoid giving fake descriptions as it will reduce your rankings drastically.
In the Apple App Store, you have 255 characters to set a title for your application. Therefore, pick a title that contains the exact keyword. The title must be rich with the searchers. When you use the right keyword, it shines with your title and the algorithm will automatically rank your application.
When we talk about the Google Play Store, you are limited to 30 characters. So, you have to be descriptive and creative within that limit. However, make sure that you include the primary keyword within your 30-character title.
Keyword optimization is an essential part of the ranking process.
#2 Visual Quality 
The next aspect of app store optimization is visual quality. You need to attract users with visual entities. If you visit any of the app stores, you will see that there are certain ways to describe apps like images, screenshots, and a short video. You need to emphasize that to provide a quality visual to the users. It is not only a requirement but allows users to get a glimpse or idea of what your app is all about. It is just like e-commerce websites where the images of the product influence the buying decision of the customers. So, keep this aspect in mind when optimizing your mobile application.
#3 Reviews
Last but not least, everybody's opinion matters when it comes to trusting an online source or app. From products bought from e-commerce sites to service orders, customer reviews are what drive customers to buy the product or avail of that service. Reviews tell the real story of the app – why it should be downloaded, why it shouldn't be, what are the best features, and more. So, try to maintain the quality of the app as you promised to the users.
Final Words 
In conclusion, App Store Optimization is a pivotal part of the app marketing strategy. There are many different tools that you can use to prepare the right ASO strategy.