How serious are we about Cybersecurity?
How serious are we about Cybersecurity?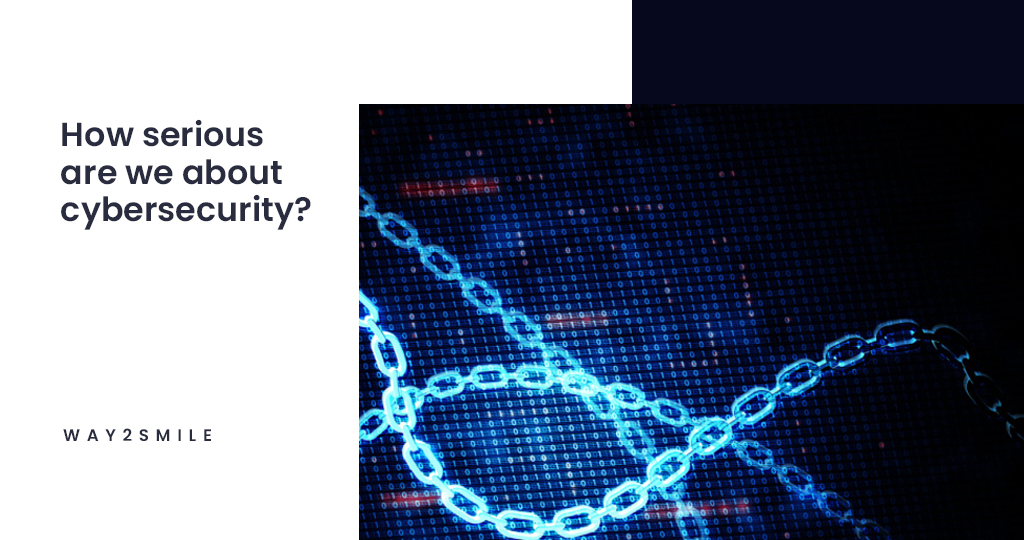 Reading Time:
4
minutes read
Overview: Cybersecurity is one of the most talked about topics today since there's been an uptrend in threats, from data breaches to phishing attacks on individuals as well as businesses. This has engendered huge losses due to damaged or stolen data, compromised systems, databases, etc. It's important to address these cyber threats soon and protect your business from these various attacks. 
Take this 5-min read to learn more about cybersecurity.
The global pandemic left businesses and individuals with great loss, and cyber threats were one of the major reasons for the disruption, since fraudsters, hackers, and scammers made use of this unprecedented opportunity. Today, with a lot of businesses working in remote and hybrid models, they have to focus on enhancing online security measures to recover from their losses faced in the COVID-19 pandemic. These cyber-attacks can destroy any company's infrastructure completely, compromising both systems and business data.
What are Cyber Threats?
Cyber threats can be defined as malicious acts performed by hackers to destroy your business infrastructure and important data. Earlier, the word "cyber" was used to refer to the control and management of animals and machines (refer to cybernetics). In today's environment, cybersecurity tools and technologies are used to monitor the electronic activities of computing devices. 
What are the various types of Cybersecurity Threats?
Cybersecurity threats are of various types where hackers perform attacks on people and businesses for financial purposes or to steal data. Here are a few types of cybersecurity threats:
A denial of service (DoS) attack has the power to shut down a machine or destroy a network, making it inaccessible to users.
Emotet is a destructive malware attack which is also known as a banking Trojan that steals financial data and causes major threats to users.
Password attacks are performed by cyber attackers who are experts in strategizing an attack to steal data from a database or break users' or businesses' standard security practices.
Phishing attacks perform tricks on users by sending misleading texts and emails to make them download malware or spread viruses, in order to attack their computer systems or devices to steal data.
Malware is dangerous software that targets particular users or businesses to damage their data, hack their systems, or block access to specific data. For example, ransomware and spyware.
A man-in-the-middle (MITM) attack allows hackers to interrupt when transactions taking place between two parties to steal data by making them install malicious software. For example, it is unsafe to use public WiFi networks.
SQL injection is a technique used by hackers to obtain a company's sensitive data by breaking the malicious SQL code in the server.
Why is Cybersecurity important for your business?
Cybersecurity is very important for your business today to prevent hackers that trying to destroy your company's reputation, and steal money and sensitive data to cause harm. All this sensitive data is drawn by hackers, scammers, and fraudsters from personal users' accounts, governmental records, property information, etc. Cybercrimes are now increasing day by day since they constantly target users and businesses for the key assets they hold.
The need for cybersecurity is in demand among various businesses. You can adopt advanced cybersecurity services or cybersecurity software to be implemented in your organization to strengthen your sensitive information from unwanted hacks. Many industries, like healthcare, banking, etc., that still rely on traditional infrastructure need to upgrade their security level with cyber defense programs and mechanisms to safeguard their data from malicious attacks.
Cybersecurity attacks targeted at individuals will face issues like data leakage, financial loss, or even putting their lives at risk. Safety is everyone's first priority to secure their personal information, so it's better not to open such texts, emails, or even communicate with strangers. Cybersecurity awareness is essential for businesses and individuals to always stay cautious while sharing their personal information with others, which might affect their personal life.
What are some new technologies and tools to reinforce your enterprise's cyber defense?
Cyber threats are causing more issues in the lives of ordinary people as well as businesses. New technologies and tools are now available on the market to reinforce your enterprise's cyber defense.
Cyber Threat Detection Tools
Cyber threat detection tools are an important part of a company's tech stack. It is also known as "extended detection response" (XDR) and sends an instant notification to you when some suspicious malware is found on your company's network.
Cyber Attack Testing Tools
Cyber attack testing tools or crowdsourced simulations are usually implemented in big companies to prevent unwanted threats caused by hackers. These tools are professionally handled by white hat hackers to prevent various cyber threats.
Outsourced Cybersecurity Services
Outsourced cybersecurity services are now helping many enterprises secure their infrastructure to prevent unwanted hacks and attacks. They're highly skilled at handling various cyber threats that have impacted various industries' security in the past. You can get outsourced security services for your business today to protect important information before any cyber attacks take place.
Cybersecurity Solutions for Digital Infrastructure
The cybersecurity solutions for digital infrastructure address the pain points of your business and offer the best security. It is capable of detecting cyber threats quickly when this solution is implemented in your company's infrastructure.
Final Thoughts
Cybersecurity is the future for any business to protect their business sensitive data, and financial information, from hackers. It is also challenging to prevent these attacks nowadays but with advanced cybersecurity tools and technologies, you can avoid these issues and strengthen your business infrastructure with high-end security. Way2Smile, a leading IT consulting company in Dubai offers robust cybersecurity solutions for small to large-scale businesses at an affordable cost to advance their security infrastructure.