Is the metaverse set to improve customer experiences in the fashion industry?
Is the metaverse set to improve customer experiences in the fashion industry?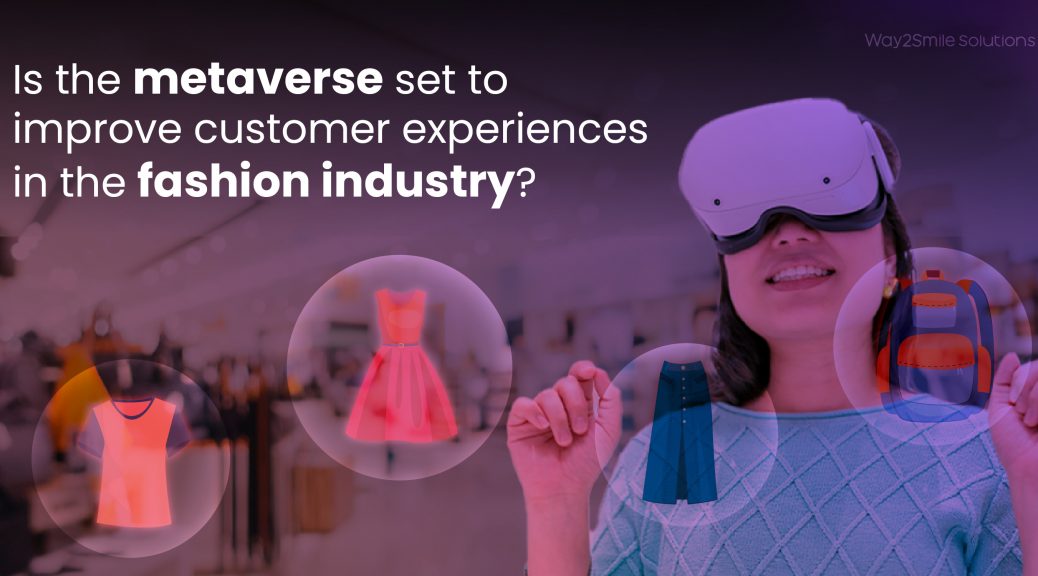 Reading Time:
4
minutes read
Prelude
The term "metaverse" refers to a future in which holograms, augmented and virtual reality (AR/VR), and other digital tools will be used to enable human interaction and existence in a virtual setting. The fashion industry has been paving the way into the metaverse since 2019. Fashion brands are making impressive strides into the metaverse and offering their fans genuinely thrilling experiences. Gucci has already created digital avatar clothing and accessories, and over 7 million people have visited the metaverse shop "Nikeland" so far. The metaverse and its associated experiences are not fully understood by the general public, but retailers will benefit from them. To determine how customers can get the best experience, they must continually experiment across virtual worlds.
The right technology must be in place for brands to succeed, and they must also be willing to keep experimenting across virtual worlds to figure out where they can provide the best experiences for customers. Shopping won't magically migrate to the metaverse, and virtual world shopping isn't comparable to traditional in-person. But it offers new ways to impress and excite consumers, presenting brands an unprecedented opportunity. Whether it's a high-profile fashion shows or a cutting-edge brand collaboration, fashion brands always need fresh strategies to stay current and excite customers. Using virtual worlds, high-end retailers can give customers access to fashion shows or the chance to shop for limited-edition products that aren't readily available in the real world.
User experience must be improved
The current user experience challenges are a factor to take into account when formulating a metaverse strategy. The metaverse currently largely demands that users use digital currencies to make blockchain-based payments. While doing so makes them borderless and eliminates the need for currency conversions or exchange rates, many people are unfamiliar with the procedure as a whole. The barriers are obvious when you consider the difficulty of setting up cryptocurrency wallets or performing cryptocurrency conversions to bid for NFTs as a means of transacting. Brands may offer the option for payments to be made in the metaverse using conventional payment methods, such as credit cards, to get around this and increase the accessibility of commerce in the metaverse.
Start by putting a plan in place
The metaverse is fundamentally another platform for commerce, so optimizing the user experience is crucial. At its core, the metaverse can be viewed as another platform for interaction, and providing excellent customer service is similar to best practices used online and in apps. For instance, having a firm grasp of customer data is essential to the ability to personalize and tailor experiences to each user.
While brands are learning what works best in the metaverse, they need to adopt a testing mindset that allows them to quickly try out various content types, assets, and experiences. Discover what is most exciting and engaging for customers, and eliminate those that don't. The metaverse won't overnight change the retail industry, and it won't be the only channel for reaching customers. But it is sure going to be the future.
The Metaverse Can Improve the Customer Experience
Rather than waiting for the metaverse to become widely used, smart businesses are establishing a presence in it now. Businesses are investing in the metaverse, despite its still conceptual nature, because they believe it will provide them with new and innovative ways of connecting with customers. In the metaverse, the possibilities are practically endless. Avatar skins, digital clothing, virtual real estate, virtual nightclubs, shopping centers, and digital artwork are just a few examples.
Metaverse adoption is time-bound
Many brands are delaying investments because the majority of the initial metaverse applications are either constrained or gamified, but this strategy needs to be revised. The metaverse is positioned for enormous growth and evolution, despite the obstacles it must overcome to achieve widespread adoption. It is impossible to overstate the potential of the metaverse to link consumers with brands in ways that produce exceptionally emotional positive experiences.
Avatar Skins, D2A, and Digital Twins
The use of digital twins in manufacturing processes is quite common. However, the use of digital twins has grown to include digital versions of people, places, things, cities, factories, and processes in virtual worlds as Web3 and the metaverse approach. To be used only by digital avatars in a metaverse, many brands are now investing in digital-only assets. A new business model called "direct-to-avatar" (D2A) involves selling goods directly to avatars or other digital identities in virtual environments. Non-fungible tokens (NFTs), which users can design, trade, and wear via avatars in a metaverse, are sold as a form of some of these digital assets. For use in video games and virtual worlds, users create avatars, which are personalized graphical representations of themselves. An avatar's appearance is largely determined by the world in which it lives, but most offer customization and accessories, such as:
Hair (color, length, style, etc).
Eyes (color, shape, etc).
Body (thin, thick, muscular, tall, short, etc).
Clothes (shirts, pants, skirts, shorts, etc).
Footwear (sandals, boots, sneakers, flip flops, etc).
Accessories (glasses, hats, handbags, etc).
A D2A market permits businesses to sell digital twins for use in virtual environments and video games, consisting of footwear, apparel, handbags, glasses, and other accessories, to consumers, or more precisely, to their avatars. Some clever brands let their customers try your clothing in virtual environments so they can decide if it's right for them in reality as well.
Omnichannel experience includes metaverse
The personalized interactions that brands have with their customers will extend into the many virtual worlds that make up the metaverse as it becomes more commonplace. Customers will be able to experience the extended reality (XR) technologies of virtual reality (VR) and mixed reality (MR) in the metaverse. Brands are still learning how to give customers satisfying, emotionally engaging experiences as the metaverse expands. Although most metaverse worlds currently exist in 2D, they will eventually be primarily virtual environments that can be accessed through VR, AR, and XR devices. Additionally, brands have the chance to interact with consumers in metaverses through a variety of formats, such as exclusive access to virtual events, digital collectibles, and
NFTs.
Conclusion
The future of this ground-breaking technology known as metaverse is bright, and its journey into the world of fashion has just begun. Although technology will eventually make this a reality, a world where all clothing is digital remains a dream. As a result, Metaverse is expected to continue organically growing over the next few years. Metaverse combines AI, blockchain, machine learning, cryptocurrency, and NFT. With a changing perception of reality and needs, it is predicted that the fashion industry will undergo the same changes, elevating the digital world to a new level of production and consumption. Virtual goods will continue to gain popularity as consumers spend more time online and fashion leaders learn new ways to connect with young consumers. Players should investigate the potential of NFTs, gaming, and virtual fashion because they present novel opportunities for creativity, community building, and ecommerce.
Still wondering how the fashion metaverse works? Read our detailed blog on this: "Hybrid stores: Why the luxury market in the UAE is fast switching to the Metaverse".