A Quick Look into Developing Hotel Booking Apps
A Quick Look into Developing Hotel Booking Apps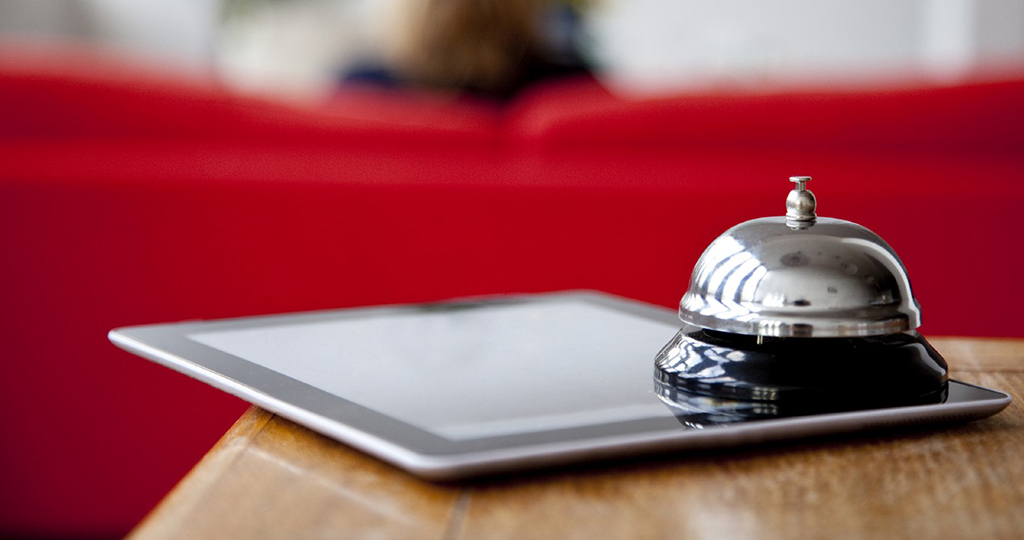 Reading Time:
6
minutes read
In the last few decades, the majority of industries like hotels, travel, and so on have moved towards digitalized experiences. When we want to take a break to travel, we all go to Booking.com, Trip Advisor, Airbnb, Expedia, or other booking websites and we're all set. 
According to Statista, people worldwide today book their vacations online in a cost-effective way thanks to such websites. 33% of US respondents booked hotels at least once in 2021,  and all of them did it via online booking. Furthermore, by 2026, online sales will account for 78% of total hotel revenue.
Investing in custom software solutions is one of the simplest ways for hotels to jump on this bandwagon – and this development guide for Hotel Booking Apps will put you on the right track. Hotels can also provide more personalized services with custom software. These apps not only make guests feel more at ease, but they also assist hotels in collecting valuable guest data. 
The market share for the online hotel industry 
The hotel industry is one of the world's foremost revenue segments, with an annual revenue of well over $500 billion. As per the facts, the travel and tourism sector is expected to grow at a CAGR of 13.6% to $1134.55 billion by 2023.

What exactly are hotel booking apps?
These applications are meticulously designed to assist people in booking hotels, hostels, resorts, and other accommodations from anywhere with a few clicks. But that's not all – these applications have reorganized and optimized the hotel booking process. Choosing a good hotel within your budget doesn't require you to travel from hotel to hotel with all of your belongings.
What are the must-have
features of a hotel booking app
?
Software for hospitality is designed with the customer in mind, so, in order to be successful, it must meet their expectations. The features of an application influence its popularity and demand. A hotel booking application with numerous features will undoubtedly outperform its competitors. As a result, having high-quality features in your platform is a must. So, here's a list of features that will help your app become popular among travelers.
A person searches for hotels online to find the best option within their budget. 
Comparison –

A comparison feature is therefore desirable in order for users to easily compare two properties and select the best.
Search –

Using it, a person can quickly search for a specific property in a neighborhood. Larger chains will have more advanced functionality, but the following search categories should be included at a minimum:
Location (country, state, and district) 

Arrival and departure dates

The number of visitors and their ages

Other amenities

Pricing
It would be beneficial to allow users to narrow down the results using parameter-based filtering. They'll most likely want to sort the results by rating, proximity to the city center, and in-room bathroom.
Secure payment gateway –

The majority of travelers prefer to pay for their hotel reservations online because it saves time and is more convenient. Users are one step closer to making a reservation when they can pay for it in-app. 
Cancellation & Refund –

Users can save their privacy settings and payment information in guest profiles for future bookings.
Online reservation –

Considered the most important feature, you must a direct online booking module in your hotel's mobile app. It should allow guests to browse your accommodations, view photos and descriptions, and book rooms on specific dates.  Users may also choose an approximate check-in time, reserve a parking space, or leave comments. This would expedite the reservation process for both the user and your administrators who handle the request.
Top 5 mobile apps for hotel booking
There are hundreds of hotel booking apps available on the App Store and Play Store. As a result, choosing the best might seem tedious. But based on the features and functionalities, here is a list of the top 5 hotel booking apps that you should look to for inspiration before beginning your hotel booking app development.
Booking.com
Booking.com is first and foremost on the list. Every day, they introduce new and exciting travel deals. Users can also connect with other travelers to share their travel experiences. It also allows users to manage reservations at leisure.
Marriott Bonvoy
The Marriott Bonvoy hotel chain has over 7000 locations worldwide and is well-known to those who haven't heard of it. Checking into hotel rooms is easy with the "Mobile check-in" feature. The mobile key can also be used to lock and unlock a room, and gain access to the gym, pool, and lounge, among other things.
Airbnb
Using Airbnb is not just about finding a place to stay; it's about getting a memorable travel experience as well. Booking long-term rentals is strongly advised. The traveler has the option of selecting from over 6 million properties in 191 countries.
Agoda
With 2 million properties to choose from, this app is highly recommended to find the most affordable accommodations. It includes a built-in map to help you find the property quickly within a certain location. It also provides users with 24-hour customer service to help them avoid complications during travel.
Trivago
Trivago is a well-known application with millions of available accommodations. 
What are the advantages of creating a hotel booking app?
Customers prefer to book hotels and interact with hotels via mobile apps rather than phone calls, and apps with the highest ratings can increase this enthusiasm in your hotel's guests. 
The benefits of developing a mobile app for your hotel business revolve around time and ease and can help guests who are in a hurry to get somewhere on time. Also, the ability to make payments through the app is a significant advantage of creating a hotel booking app. 
You can retain customers better if you provide more options to them, such as:
24X7 reservation

Hassle-free reservation management

Smarter insights

Easier travel management

Easier refunds

Faster payment online

Hotel booking app development process 
Before beginning the development of a hotel booking app, it is critical to follow a checklist of steps involved in developing a hotel booking app. If you follow all of these steps, from market analysis to gathering user feedback and updating the app based on the feedback, you will never miss any crucial aspect of the process.
Investigate the online travel market

Make a list of your competitors

Complete the app distribution zone

Define your distinct value proposition

MVP features must be prioritized

Outsource the project to a seasoned app development firm (such as Way2Smile Solution)

Keep up to date on the app development process based on goals and expectations

Participate in the development process from beginning to end

Hold regular meetings with the development team to ensure that they are driving the correct company vision

Create a marketing strategy

Introduce your app to your intended audience

Gather customer feedback before revisiting, scaling, and introducing new features
The above-mentioned outline of the development of a hotel booking app will direct you in the right direction. The MVP created through these steps can be taken to the next phase to add and improve on the features that have already been incorporated. There are now two approaches to developing hotel booking apps: template-based ready-to-use software and custom software. Simple ready-to-use software can help with a quick launch of your hotel booking app, but you need to go with a white-labeled product from a trusted app developer. 
How do you monetize a hotel booking app?
Let's get right to the point: how can you make money with the app? A lot of work has gone into conceptualizing, strategizing, and developing the app. It makes perfect sense to profit from it. Let's look at the monetization strategy.
Service fees –

A service fee may be levied on any booking made through the app. Most travel websites, including Airbnb, Tripadvisor, and Booking.com, charge service fees.

Marketplace –

You can charge hotels that want to be listed on your app a fee.

Advertising –

This is the most widely used method. 

Subscription –

By offering subscriptions, you can provide your subscribers with additional features, better deals, and discounts.
Conclusion:
How can Way2Smile solutions help you develop a
Mobile App Development for the Hotel Industry?
In the hospitality sector, the Internet and mobile phones are without a doubt the most recent standards. Several technological advancements are also influencing the industry. It is critical to entrust the development of your hotel booking app to experienced hands. As the leading mobile app development company in Dubai for the hotel industry, it is our responsibility to satisfy our users. We can help you create a successful hotel booking mobile app, which requires a lot of work and skilled experts. 
Using mobile devices, hospitality companies can connect with and serve their clients at every stage of their journey. By using hotel booking mobile apps instead of old-fashioned methods, you can expand your business and attract more customers. It is easier to fill your rooms with happy customers when you have a convenient hotel app available. To make everything work quickly, you need time and experience to pack useful features into a user-friendly design. 
If you've been searching the web for the best mobile app development services, Way2Smile Solutions can provide you with the most appropriate services in the same niche. We collaborate with global brands to create and deliver high-quality mobile apps that provide seamless user experiences across all modern platforms and devices.