Top 20 White Label OTT Platforms for Video Streaming
Top 20 White Label OTT Platforms for Video Streaming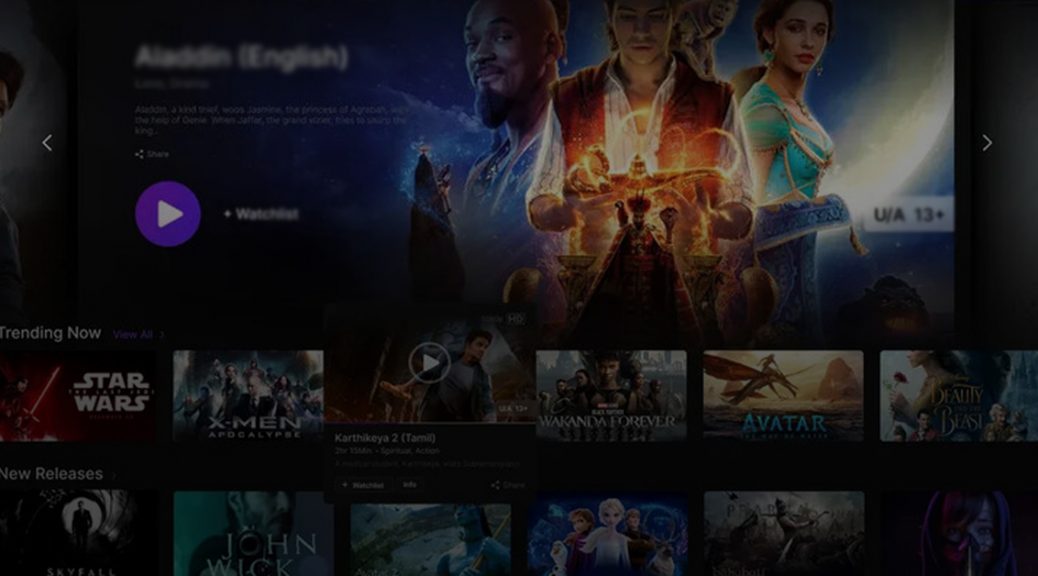 Reading Time:
7
minutes read
In the past few years, the video streaming industry has gone through remarkable growth, and it's not going to slow down anytime soon. The demand for new, quality content and the competition to attract viewers are higher than ever before. To allure your audience, a white-label video platform can be the perfect solution. 
With a white-label platform, you can totally get rid of third-party advertisements that come along with free video hosting platform providers available out there, which in turn enhances the professional appearance of your content.
 Let us guide you through the numerous benefits and reasons to consider white-label streaming services for your brand, and we will also dive deep into the Top 20 White Label OTT Platforms, assisting you to choose the best White Label OTT platform for your video streaming needs.
What is White Label OTT Streaming?

White-label OTT streaming refers to using another company's software to stream your content with a customized interface according to your preferences. This allows you to develop your own video streaming platform by purchasing the OTT platform from a provider without worrying much about the technical aspects involved in streaming your video content, thereby allowing you to focus solely on creating high-quality video content for your audience. These platforms also provide monetization options that allow you to make money from your content.
Top Lists of White Label OTT Platforms
VDOX

Dacast

Muvi

Wowza

Vidyard

Kaltura

Vimeo OTT

Vplayed

BridTV

JW Player

Brightcove

Flowplayer

IBM Video Streaming

Uscreen

Vidizmo

Vodlix

Setplex

VideoCrypt

Ventunotech

FanHero
#1. VDOX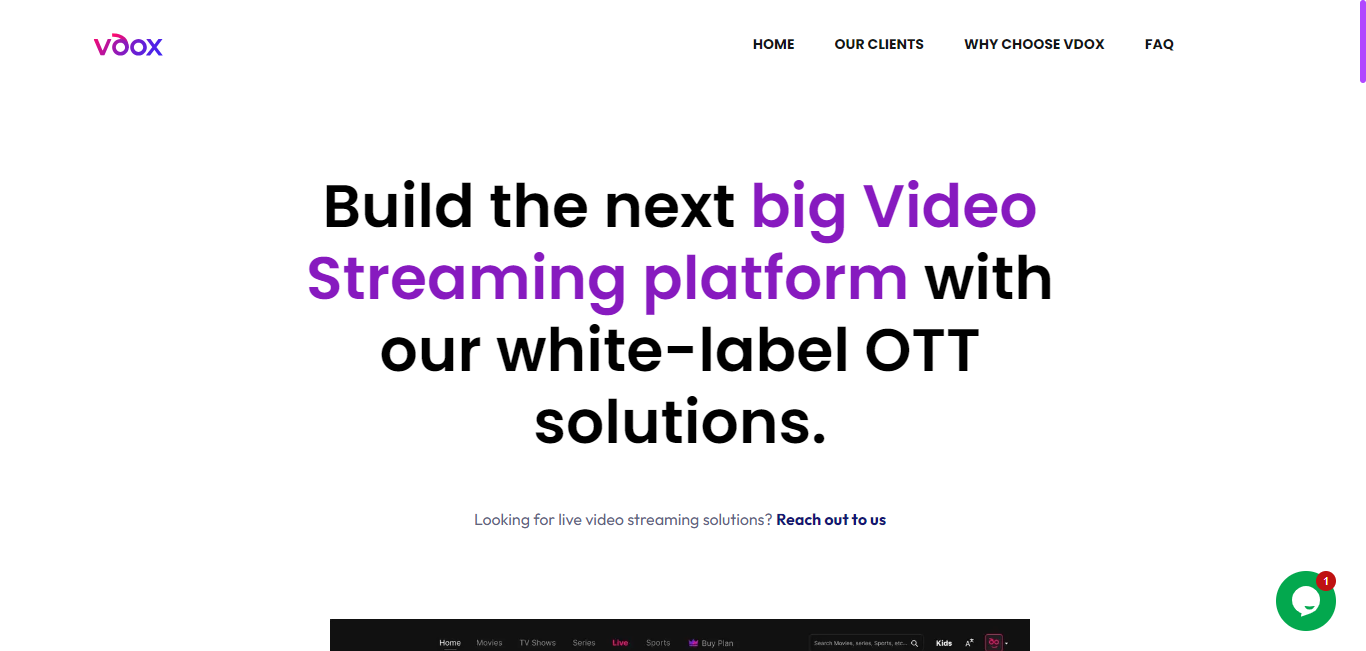 VDOX provides an all-inclusive white-label video streaming solution, empowering businesses to build their branded platforms with ease. Its features include secure video delivery, cross-device compatibility, and advanced analytics, ensuring high-quality video experiences for viewers.
Features
Dynamic Dashboards

CMS portal

High-Definition

Analytics and Reporting

Customization

Seamless User Experience

Live Streaming

Best Customer Support
#2. Dacast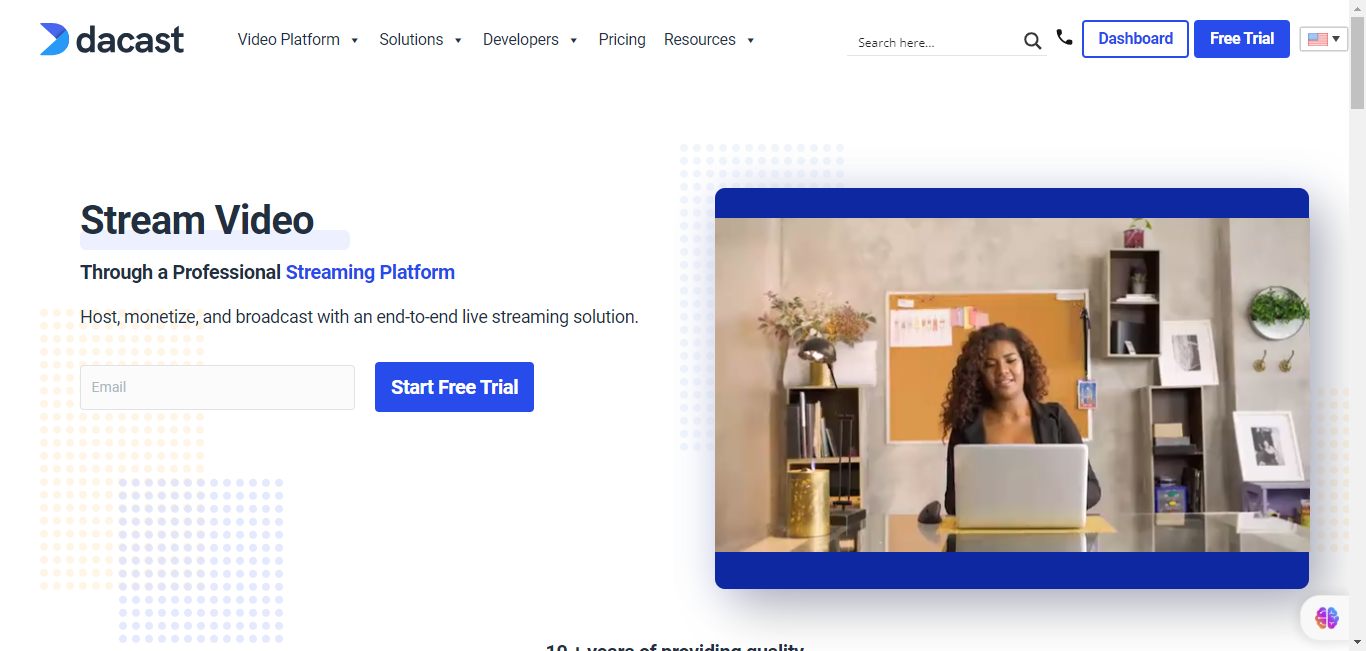 Dacast offers both live streaming and video-on-demand solutions. Its features include monetization, subscription management, and in-depth video analytics, thus making it a popular choice among businesses and broadcasters.
Features
Mobile Streaming

Secure Video Upload

Monetization

Video Transcoding

High-Definition

Subscription Management
#3. Muvi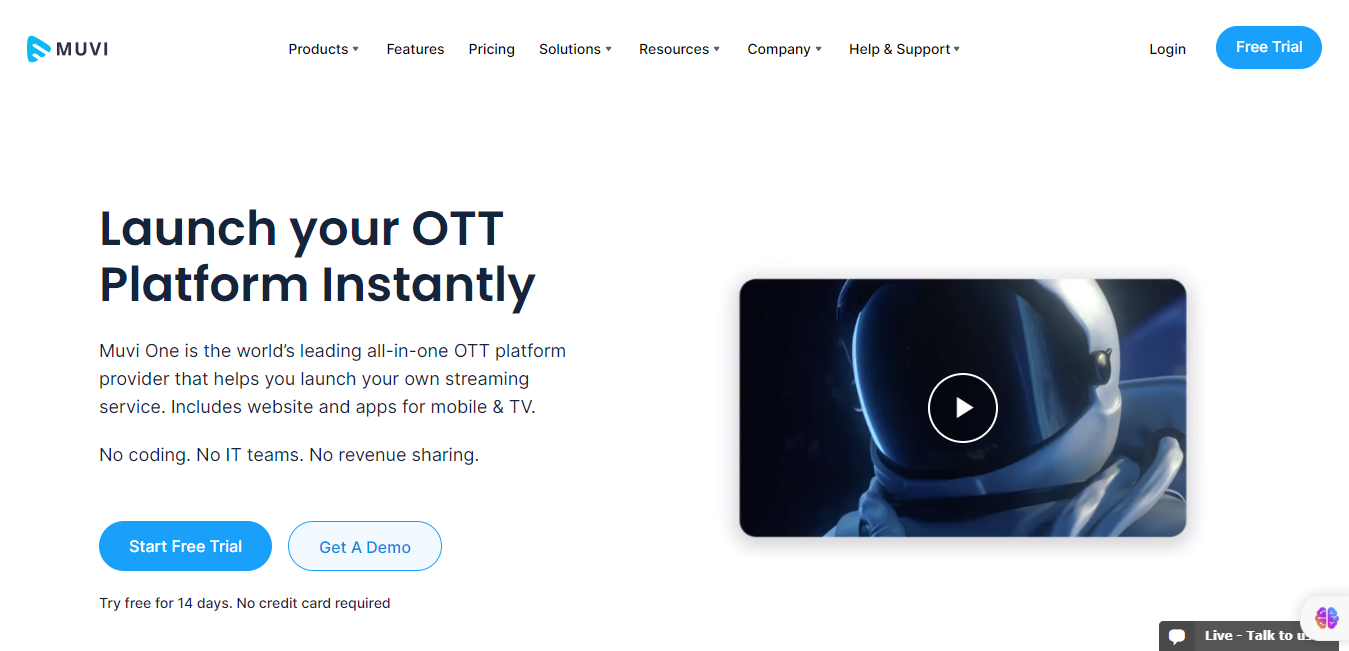 Muvi offers a white-label OTT platform with customizable themes and templates with multilingual options as well. Supporting live streaming, video-on-demand, and even audio streaming, Muvi caters to diverse content types and business models.
Features
Metadata Management

Cloud Hosting

Geo-Blocking

OTT Mobile and TV apps

Help Center

Multilingual
#4. Wowza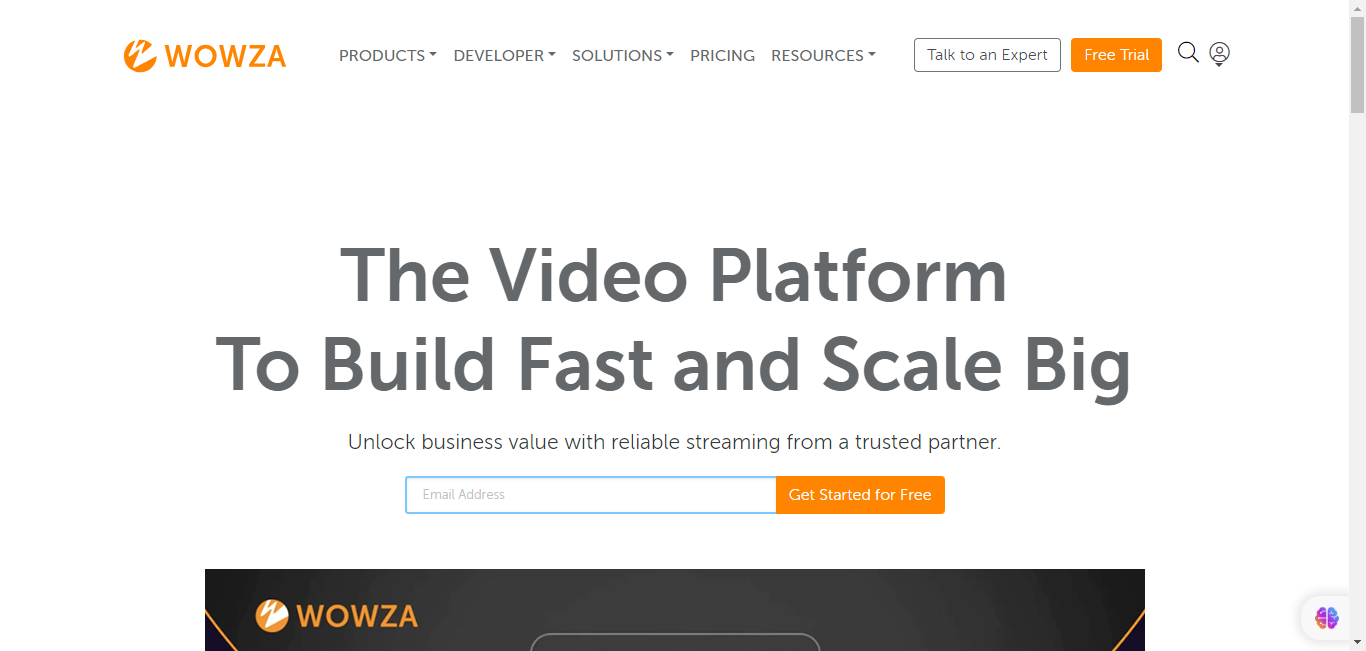 Wowza provides reliable live video streaming with low latency and high quality. Its cloud-based platform ensures seamless streaming experiences across devices, ideal for global audiences.
Features
API Access

Video Analytics

Global Streaming

Content Delivery Network

Intuitive User Experience

Video CMS
#5. Vidyard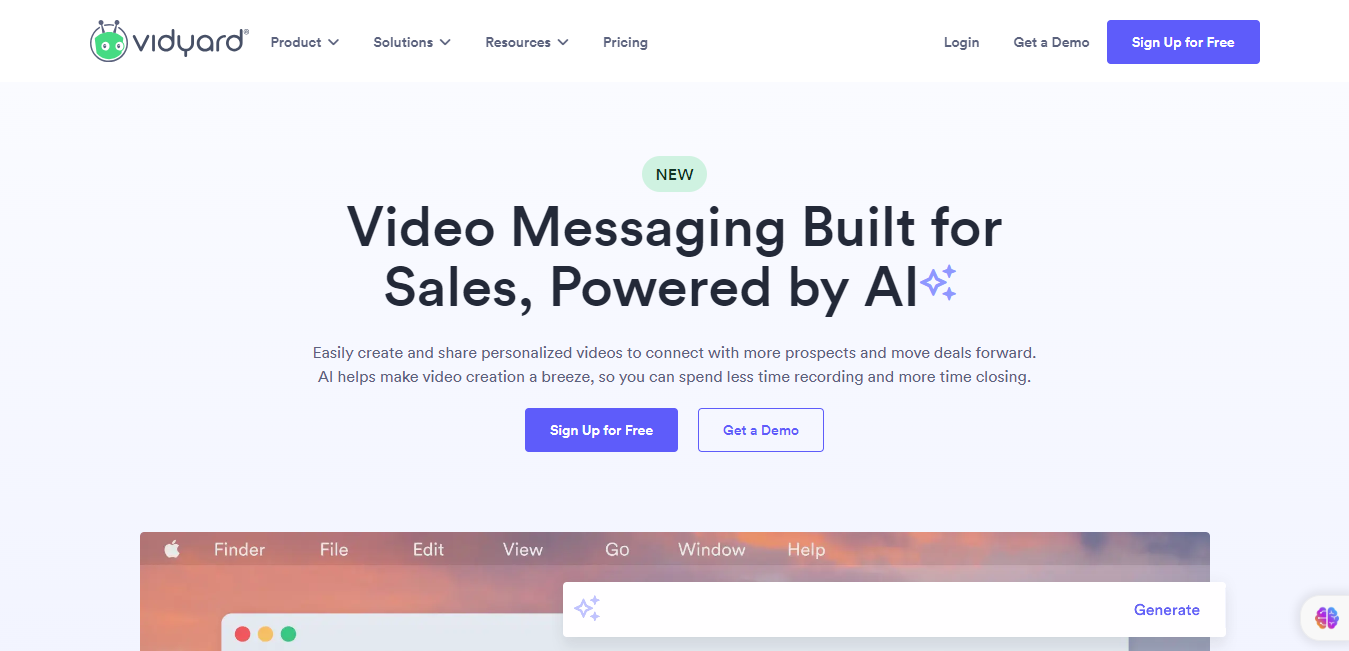 Vidyard offers video hosting and sharing solutions for businesses. With its white-label video player and comprehensive analytics, Vidyard empowers effective video marketing and internal communication.
Features
Real-Time Viewer insights

CRM Integrations

Automatic Transcriptions

Customizable Design

Analytics Dashboard

Security and Compliance
#6. Kaltura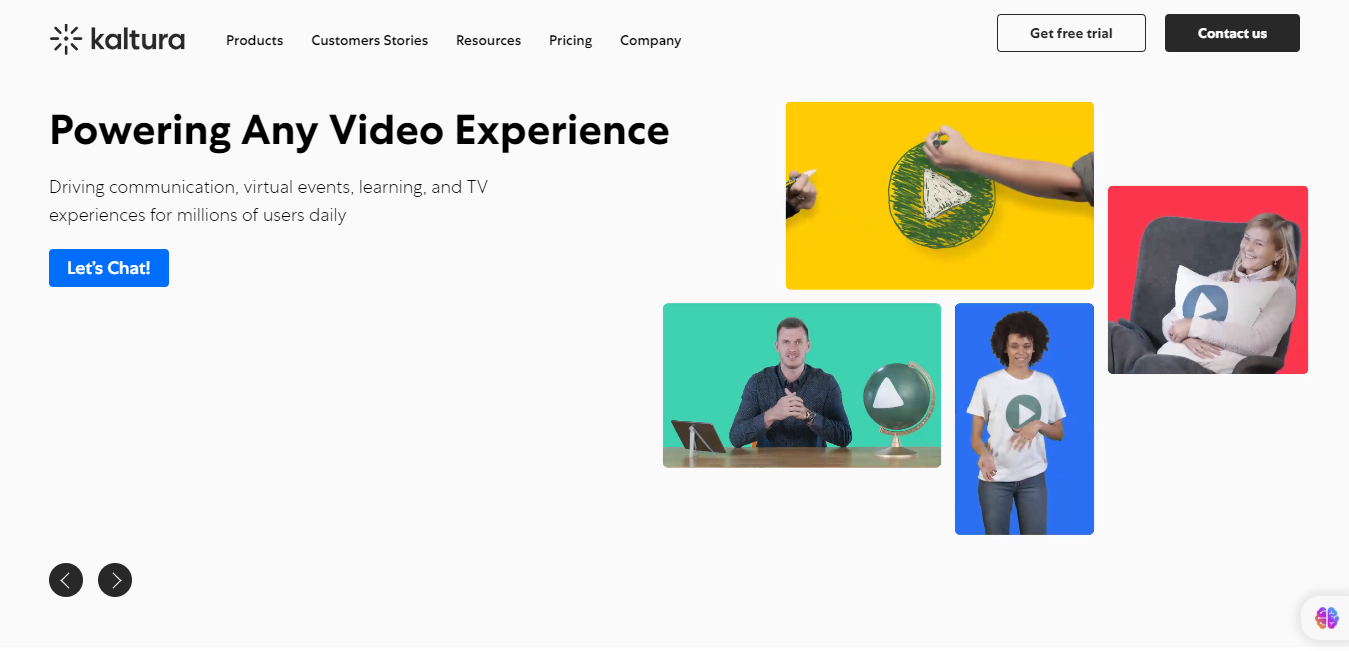 Kaltura is a comprehensive video platform catering to various industries, including education, media, and e-commerce. It supports live and on-demand video streaming, interactive video experiences, and video monetization.
Features
Analytics and Reporting

User and Device Management

Multi-revenue Models

Personalization

Media Management

High Performance
#7. Vimeo OTT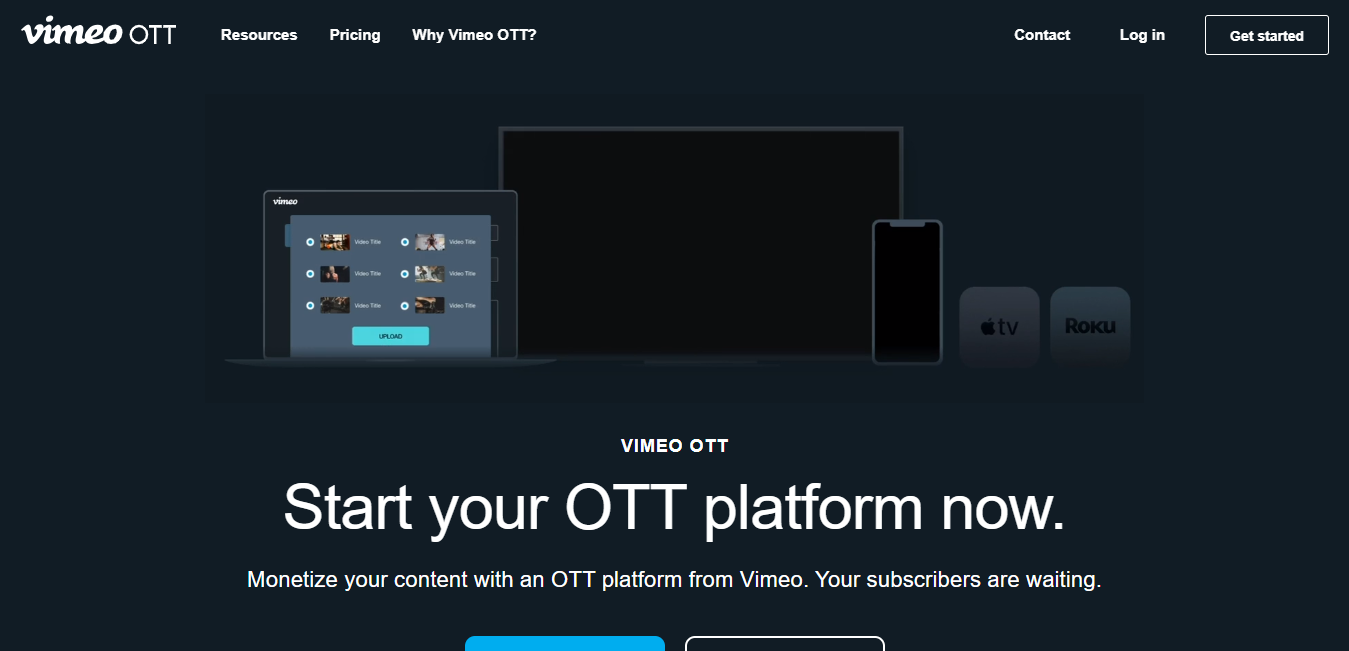 Vimeo OTT allows content creators to easily launch their own video streaming services. With a user-friendly interface and video-on-demand capabilities, it is a popular choice for independent filmmakers and businesses.
Features
Integrated CMS

Live Streaming

Seamless Payment Processing

Customer Support

Subscription

Real-time Analytics
#8. Vplayed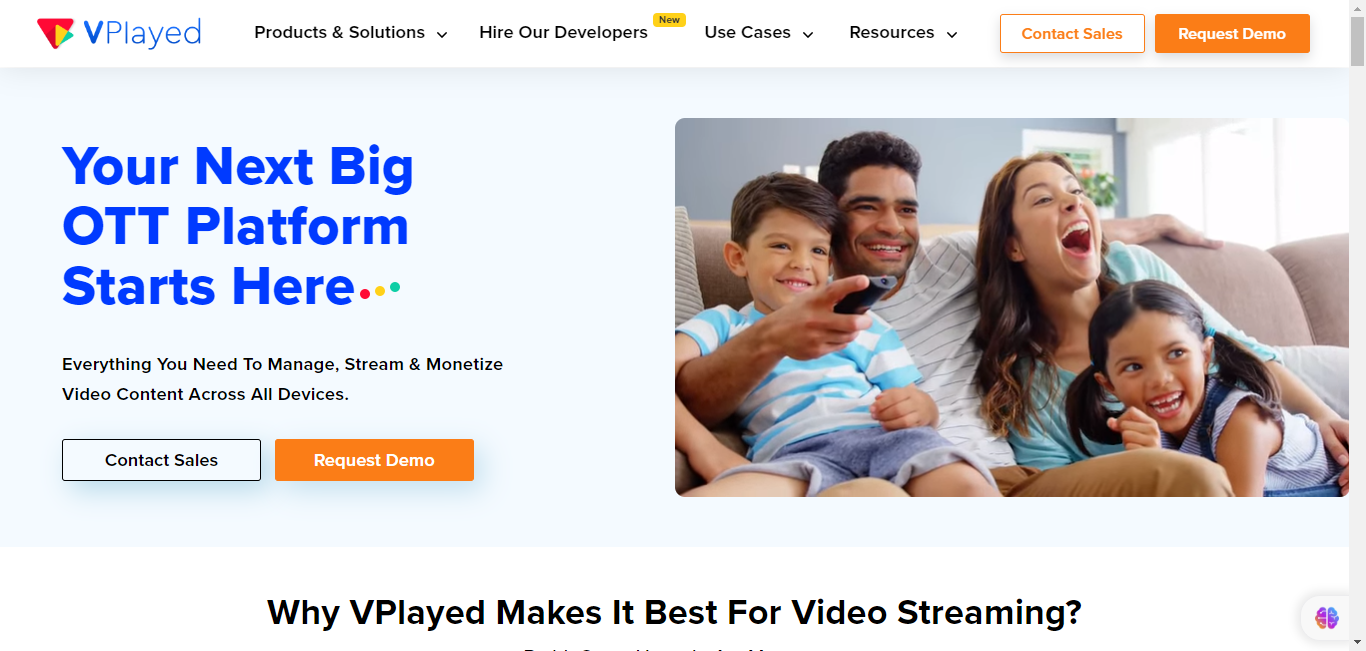 Vplayed offers customizable video streaming solutions with features like multi-bitrate streaming, adaptive streaming, and secure video delivery. It serves industries such as media, education, and e-commerce.
Features
Cloud Hosting

Third-Party Service Integration

Customization

Post Launch Support

Bulk Upload

Content Partner Portal
#9. BridTV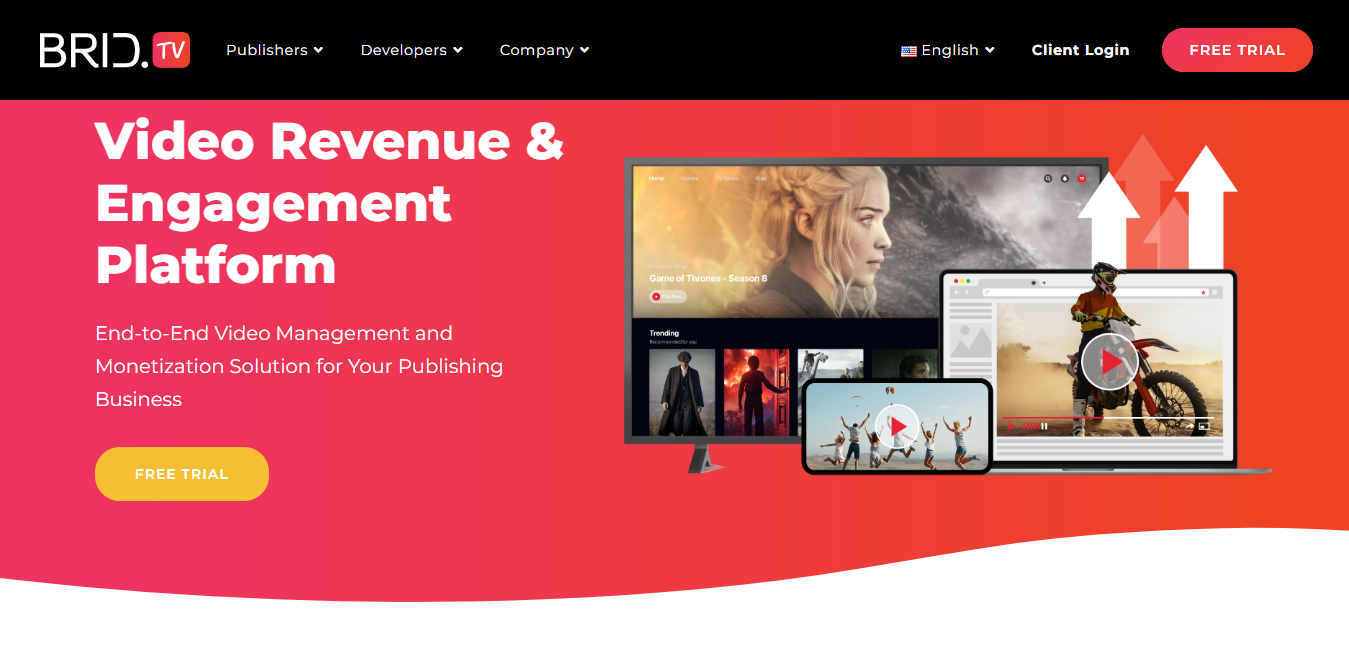 BridTV provides white-label video player solutions, enabling businesses to seamlessly deliver videos on their websites. Its player is customizable and compatible across devices.
Features
Product Updates

Customer Care

Account Management

Video Embedding

Monetization

Track Performance
#10. JW Player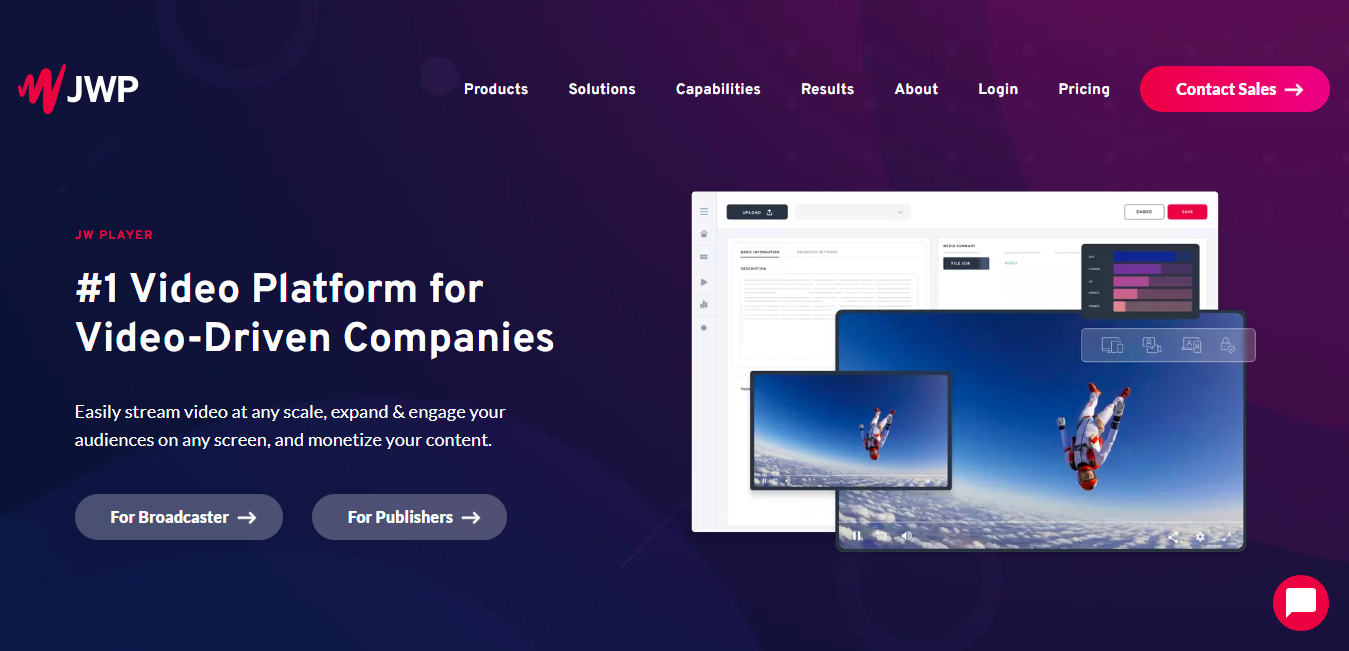 JW Player is a widely-used video player known for its powerful features, including real-time analytics, live streaming, and video monetization capabilities, making it a good choice for your video streaming needs.
Features
Live Streaming

OTT Video Apps

Subscriptions

Monetization

Content Protection

Video CMS
#11. Brightcove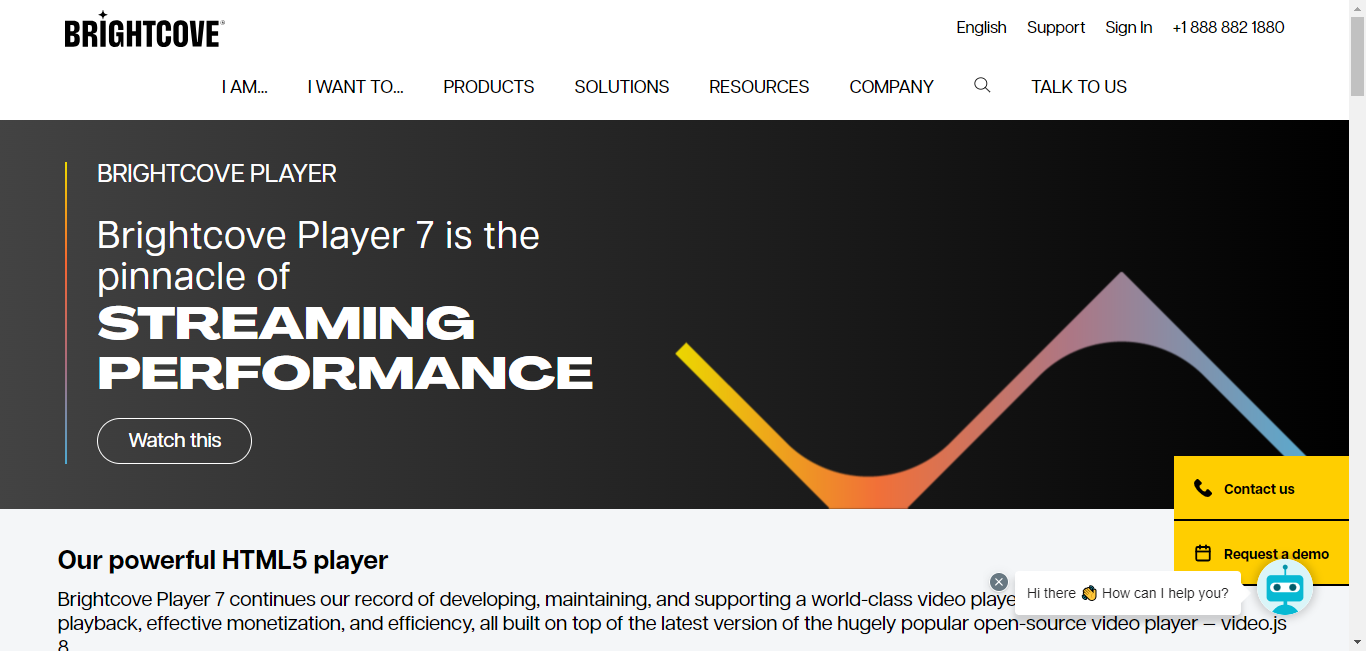 Brightcove is a comprehensive video platform offering live streaming, video hosting, and video monetization tools. It caters to businesses of all sizes and ensures reliable content delivery.
Features
Social Integration

Live Capabilities

Geo-targeting

Cross-Device Compatibility

Advanced Footer Menu

Updates after Launch
#12. Flowplayer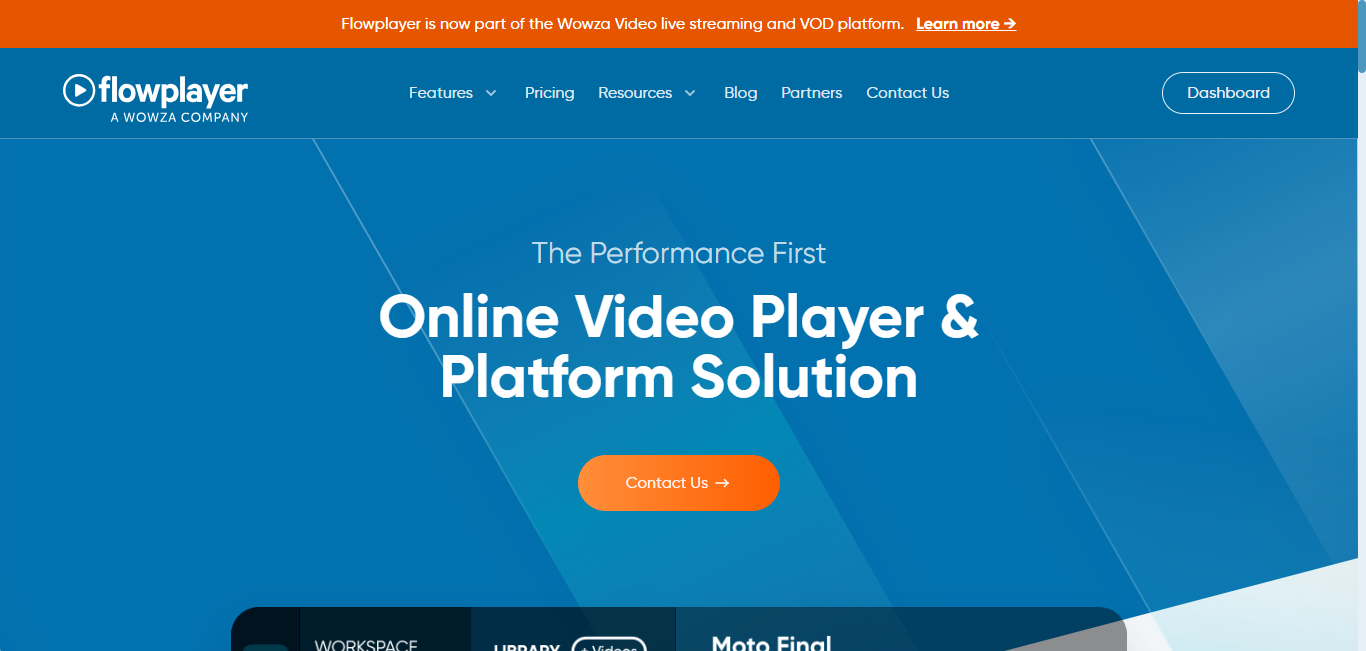 Flowplayer (part of Wowza) is a simple yet effective video player with customization options and support for live streaming and video-on-demand content.
Features
HTML5 Player

Multi-Platform

Monetization

Analytics

Live Streaming

Insights
#13. IBM Video Streaming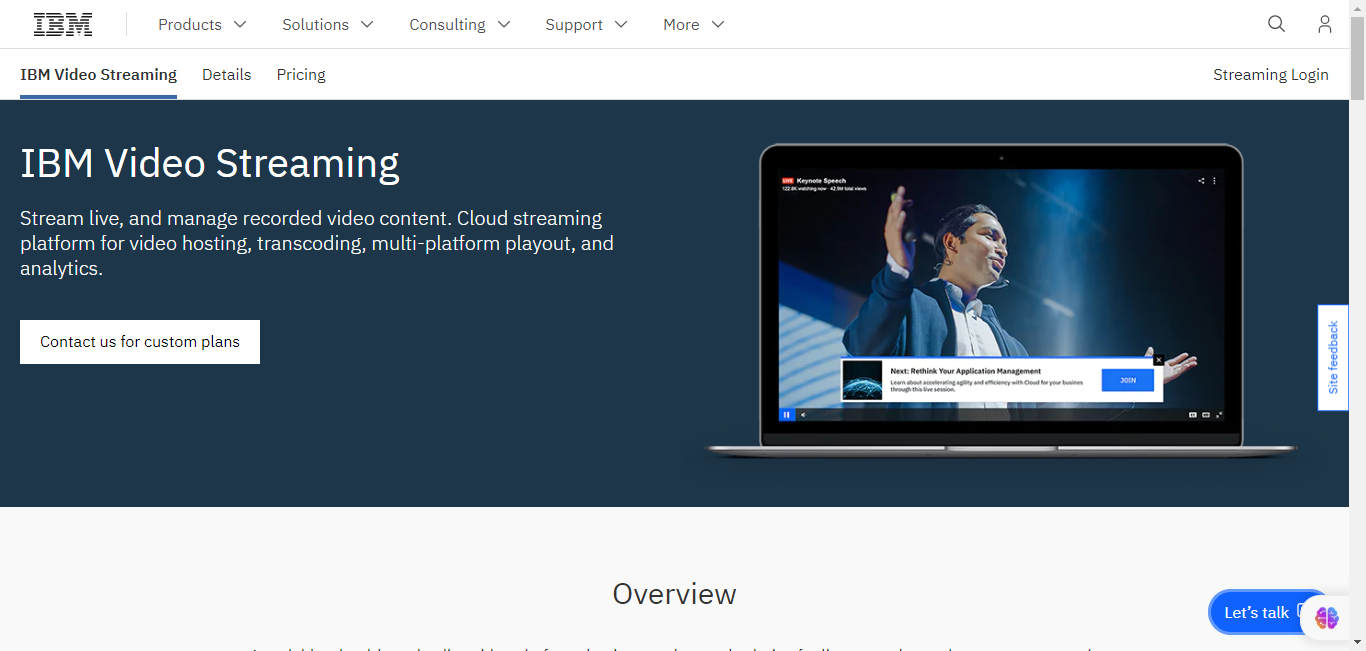 IBM Video Streaming provides scalable and secure video hosting and delivery solutions for businesses. Its cloud-based platform ensures high-quality video experiences for viewers.
Features
Video Distribution

Customizable Channel Page

Multiple CDNs

Live Chat

HD Live Broadcasting

Mobile-Compatible Player
#14. Uscreen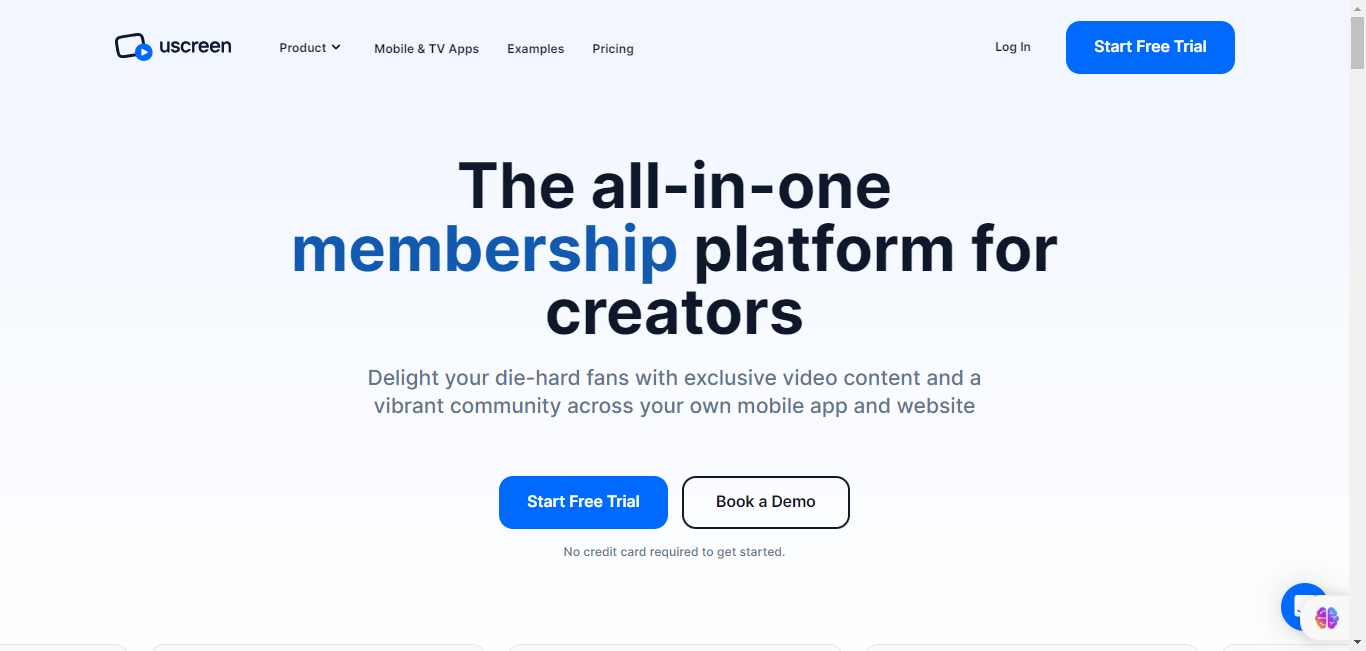 Uscreen is a user-friendly white-label OTT platform that enables video creators to launch customized video streaming services. With VOD, live streaming, and monetization tools, it simplifies content distribution and engagement.
Features
Mobile & TV Apps

Live Streaming

Video CMS

Video Monetization

Marketing & Analytics

Community Featurette
#15. Vidizmo
Vidizmo offers a comprehensive video content management platform with live streaming and on-demand features. It empowers businesses to efficiently deliver and manage their video content across various channels.
Features
Transcoding

Branding

Sharing and Access Management

Integrations

Interactivity

Multi Tenancy
#16. Vodlix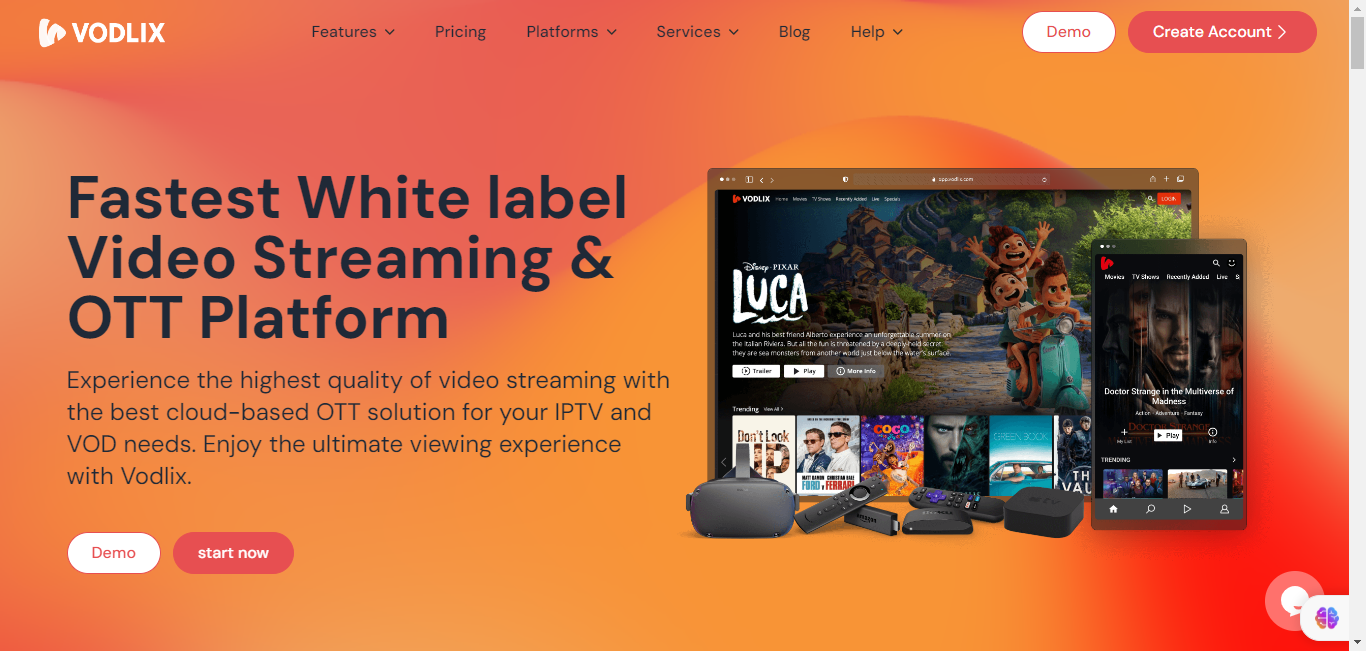 Vodlix is a user-friendly white-label OTT platform that supports video-on-demand and live streaming. Ideal for businesses, it enables easy content delivery and engagement across different devices.
Features
OTT Monetization Models

Metadata Management

Sales Dashboard

3rd Party Integration

Automated App Development

Billing Management
#17. Setplex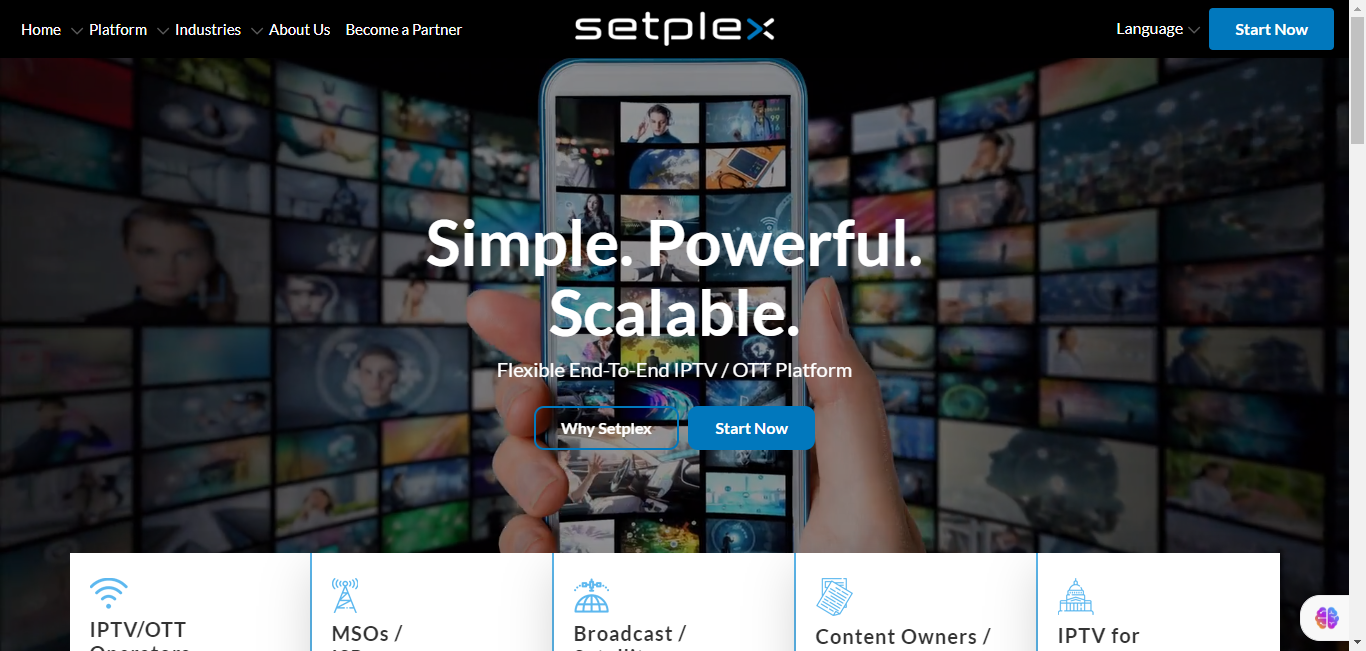 Setplex offers customizable OTT solutions with features like video on demand, live streaming, and multi-device support, making it an excellent choice for businesses looking to expand their streaming services.
Features
On-Cloud OTT

Security/DRM

Real-time Analytics

Content Delivery Network

Multiple Screen Apps

Transcoding Featurette
#18. VideoCrypt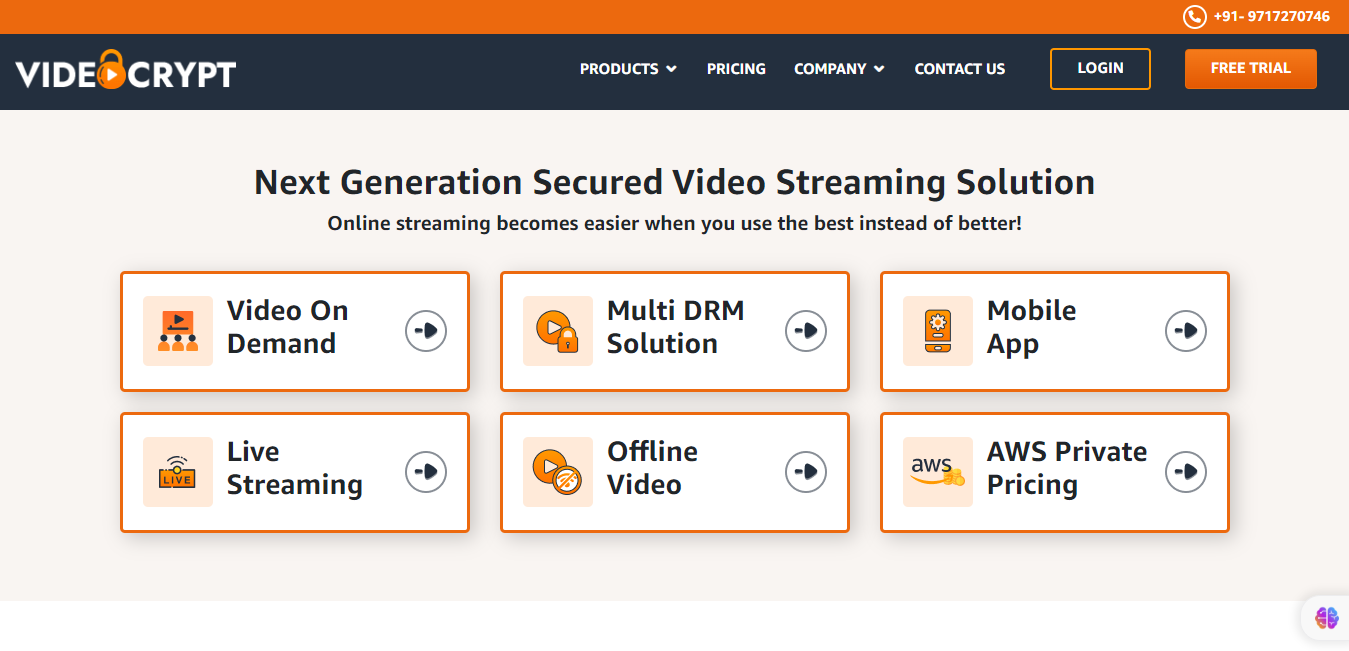 Videocrypt specializes in secure video hosting and delivery solutions, ensuring content protection and copyright management for businesses dealing with sensitive video content.
Features
Multi DRM Solution

AWS Private Pricing

Device Compatibility

Video Encryption

Offline Video Availability

Live Support
#19. Ventunotech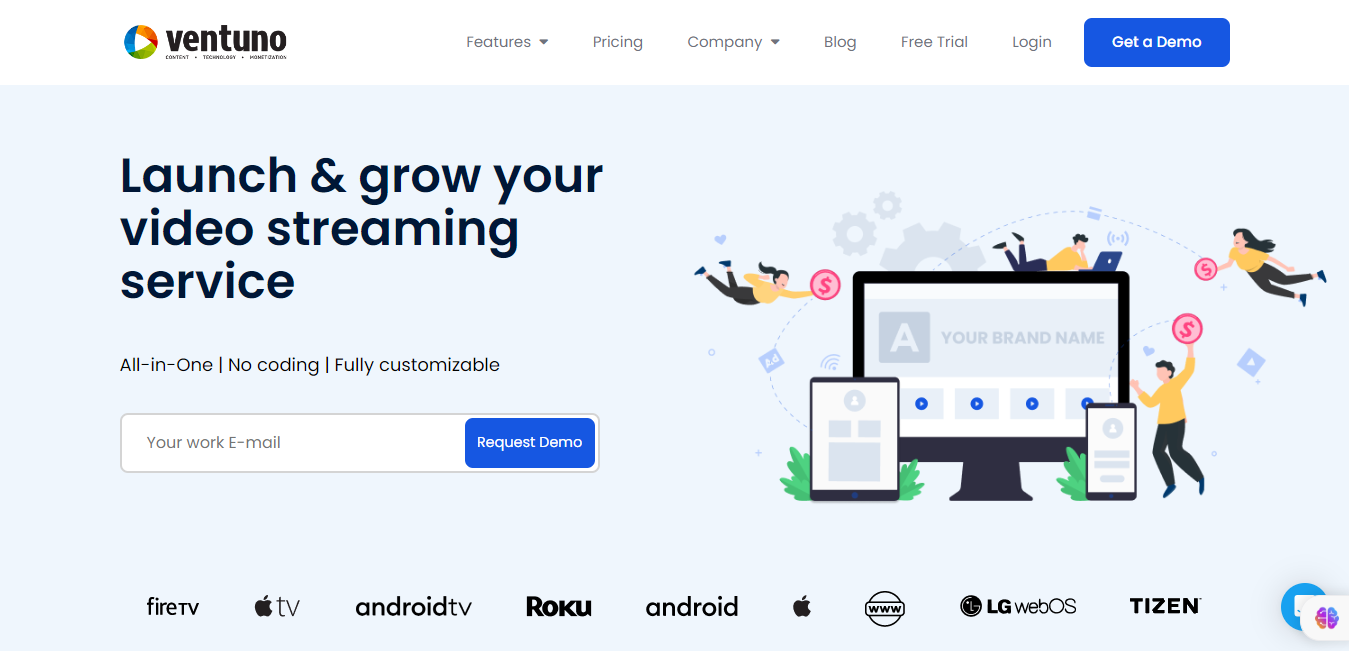 Ventunotech provides a customizable white-label video platform with live streaming and video-on-demand capabilities, allowing businesses to create their own video streaming services.
Features
Multiple Device Accessibility

DIY Platform

Detailed Analytics

Live Streaming

OTT Monetization

Video CMS
#20. FanHero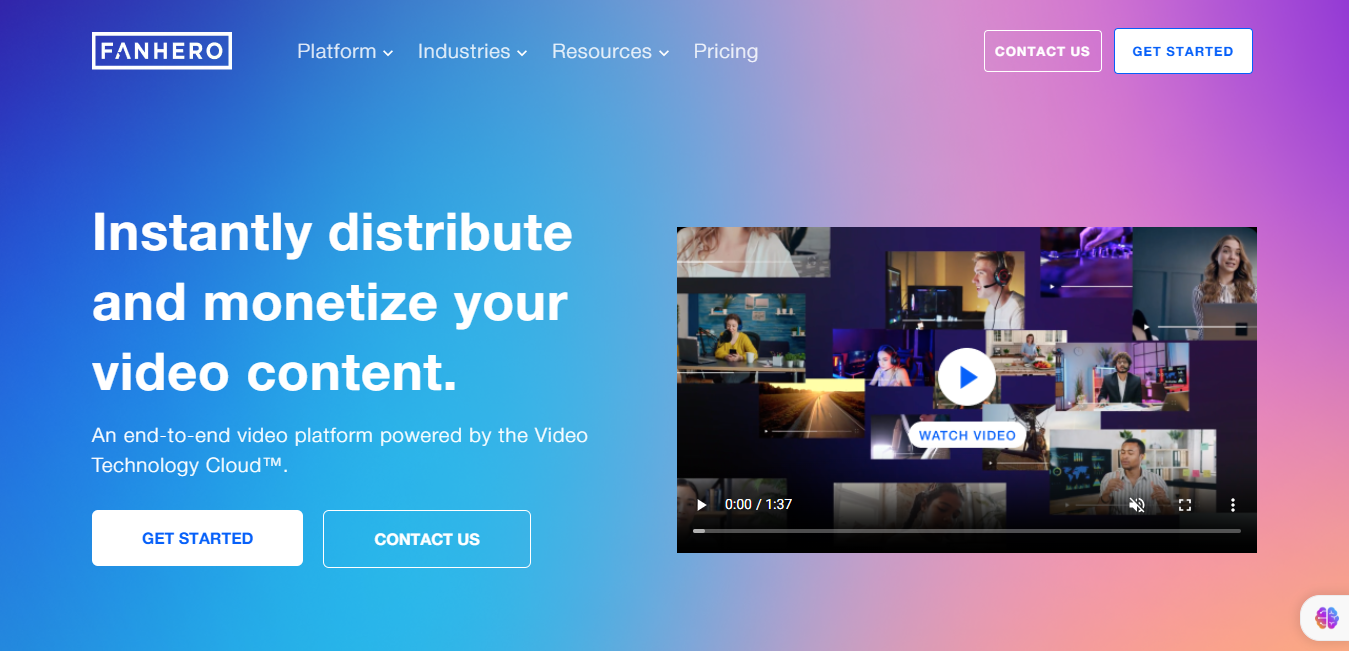 FanHero is a video platform designed for content creators, offering tools for fan engagement, monetization, and content distribution, making it a great option for influencers and content creators.
Features
Fan Engagement

Subscriptions

Pay-per-view

Encrypted Cloud Data

Live Chat

HD Quality
How to Choose?
When selecting a White Label OTT platform for your video streaming goals, consider key features such as prioritizing customization for branding consistency, and ensuring seamless content delivery across devices. Versatile monetization options and robust video analytics helps revenue generation and informed decision-making. For live streaming, seeking low-latency capabilities and content security through encryption and DRM is vital.
Opt for platforms with multi-device compatibility and scalability to accommodate growth. Reliable customer support and user-friendly interfaces enhance the streaming experience. API access aids integration with other systems. Mobile and TV app support broadens accessibility. Ensure flexibility to handle various content types. Look for platforms that offer comprehensive analytics, third-party integration, and streamlined operations. Way2Smile Solutions, a leading mobile app development company, can help you in creating the perfect White Label OTT platform tailored to your needs. By assessing the above-mentioned factors, Way2Smile Solutions can create your own OTT platform that aligns with your brand and objectives.
Wrapping Up
In the fast-evolving world of video streaming, having a reliable white-label OTT platform is crucial for all businesses and content creators. The top 20 platforms listed in this blog offer a wide range of solutions to suit various needs, from live streaming to video on demand. By choosing the right platform that aligns with their specific requirements, businesses can deliver seamless and engaging video experiences to their audiences, ultimately driving success.
Frequently Asked Questions

1. What are white-label OTT platforms?


White-label OTT platforms are software solutions that allow businesses to stream their video content using a customized interface. These platforms enable you to create your own video streaming service without the technical complexities of building the software from scratch.