A Comprehensive Guide for Building Mobile Apps for your Retail Business
A Comprehensive Guide for Building Mobile Apps for your Retail Business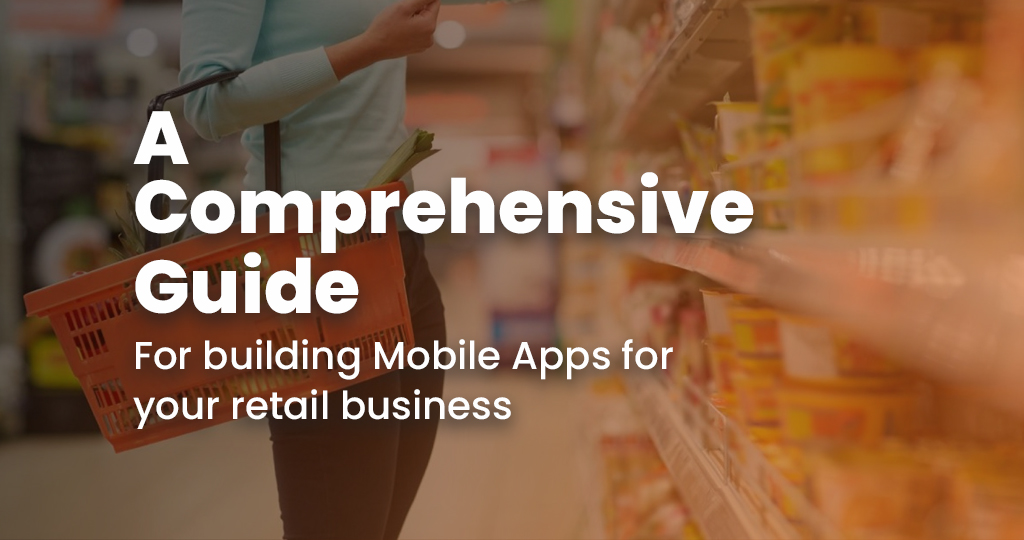 Reading Time:
8
minutes read
In this current era of technology, every retailer and individual has become more modern and technologically savvy. New technologies have fundamentally changed the way people use their smartphones. In recent years, with the rise in mobile device usage, every retailer must have an eye on retail mobile application trends. The customer experience is rapidly changing, and retailers must adapt in order to stay ahead of the competition. As a result, retail app development has become a necessity for businesses to survive in the retail industry.
Over the last few years, an increasing number of offline retail companies have decided to expand their business operations online. It enabled more people to be reached, motivating them to make more purchases, and aided in the establishment of a nonstop flow of online transactions. 
According to statistics, every fourth smartphone owner begins their product search with the authentic store app. If you do not provide your audience with this option, the majority of users may find other services instead of yours, which could be counter-productive.
Businesses in the retail industry will benefit most from retail app development since they can communicate more effectively with their customers and better understand their needs. If you're looking to build a mobile app for your retail business, this blog will help.
In this blog, you will learn more about the various possibilities for building mobile apps in the retail industry, why to invest in retail app development, and much more.
What are retail apps?
Customer satisfaction is the goal of retail applications. Small start-ups to large corporations are watching the mobile trend closely to develop an effective mobile strategy that will lead to high returns on investment. Comparison shopping for goods, checking evaluations, and comparing prices may be easier for customers with retail applications. Mobile applications, especially in this era of mCommerce, can have a positive impact on consumers.
A retail app is a software that connects sellers and buyers through a single platform, preferably a mobile app. If you choose to build your own shopping app, you will be able to reap a slew of benefits, including improved user experience, which will help you attract new customers, gain valuable insights into your users' behavior, customise their purchases, and increase your revenue. Retail mobile app development enables retailers to showcase their products via virtual shopping windows that can be accessed via smartphones. 
The online retail market is rapidly expanding. According to Statista, the market, which was worth $41.7 billion in 2013, will be worth $338 billion by 2020. And as the trend continues, businesses that do not sell goods online risk becoming obsolete in the near future.
Retail applications provide sellers and buyers with a new, more innovative, and efficient shopping experience. But we're not trying to scare you. If you're wondering how to make a retail app or your own shopping app, you'll discover a slew of advantages that will help your company grow and thrive.
Five steps to creating retail software for businesses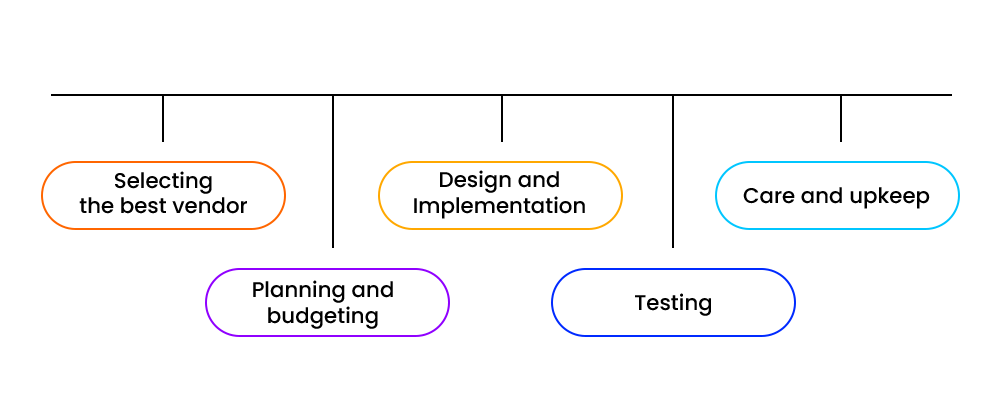 Have you considered how this type of solution can help you simplify your business?
Selecting the best vendor
Choosing a suitable software provider is a critical and difficult task. Because the system can be deployed anywhere, you should base your decision on your company's requirements and budget. SAP, Magento, and Sitecore are the three largest retail software providers.
Planning and budgeting
The next step is to go over the key features of your system and develop a detailed plan. Your future solution vision should be in line with the budget you have available. The use of your mobile app in the retail industry should be based on the planning stage which could last two to five weeks.
Design and Implementation
Depending on the circumstances of the company, this stage can last anywhere from a few months to more than a year but is a crucial step in meeting end-user requirements.
Testing
Most businesses use continuous testing to ensure that the process runs concurrently with the integration. Prepare to deal with a variety of issues and make changes. The primary goal of final testing is to simulate your company's lifecycle with go-live processes.
Care and upkeep
A system that has been successfully implemented requires ongoing support and maintenance. 
Benefits of using retail mobile app development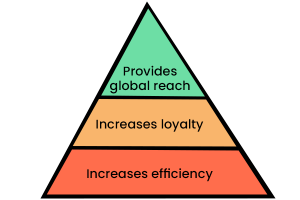 Provides global reach
A retail mobile app can connect you with a global audience, which is one of the most important benefits. You can effectively sell your products and market your company from anywhere on the planet. A strong customer connection and more revenue for your company result from increasing existing customer contact and retention. Using a retail mobile app, users can easily browse and purchase a wide selection of merchandise from a convenient online store.
Increases loyalty
Your company benefits greatly from brand loyalty. To boost brand equity and stay competitive, many local businesses are developing marketing strategies based on mobile applications. Retail mobile app development companies can help you build an ideal application for your business and your customers effectively increasing brand loyalty.
Increases efficiency
Bespoke retail mobile apps may enable you to do much more than simply get your product in front of customers. In addition to facilitating access, they contribute to efficiency advancement. A shopping cart and payment gateway are two features that ease and simplify the purchasing process for customers.
Amazing features of retail business apps that will make you stand out
Let's take a closer look at some important features of well-developed retail business apps: 
Push notifications
If you absolutely must, then choose push notifications. They are the most convenient way to communicate with your customers. When push notifications are enabled, retail business apps are said to see an 88% increase in engagement. When delivering messages based on an individual's situation, effective notifications take into account their behavior and location. 
Location-Based Messaging
Choosing location-based messaging is a great first step toward success. You can simply entice a person with a relevant offer if they're walking past a store or if they are within a certain radius.
Photo Galleries and Videos of High Quality
App developers say that in-app photo galleries and videos help to bring brands to life. As a result, you can include high-quality photos or videos of your products in your business apps.
Friendly User Interface
Users will delete your retail business mobile apps if the interface is crowded or confusing. However, if the interface is clean and simple to use, it paves the way for a more pleasant user experience. As a result, critical information should be easily accessible, pop-ups should be kept to a minimum, and the screen should be clear. In other words, this will encourage customers to return.

3 main reasons why you need a mobile app for your retail business
Retail app development is now an essential component of any retail business. Let's take a look at three more reasons why retail stores should be thinking about retail app development right now.
#1: Retail app development to maintain competitiveness
Consumers all over the world use mobile retail apps to conduct preliminary product searches. As a result, they shop at stores that have mobile retail apps up and running. 
The most forward-thinking are already reaping the benefits of profitably incorporating machine learning, artificial intelligence algorithms, and techniques into their retail apps. Personalized user in-app scenarios and virtual assistants aid in increasing customer satisfaction.
#2. Developing retail apps to increase brand loyalty
Loyalty programs can be run using mobile apps with coupons, rewards, and freebies.
Furthermore, because of the numerous benefits that the mobile environment offers, it is ideal for rewarding customers for their purchasing activity. A simple coupon for a small but exclusive in-app discount can work wonders and provide a customer with a valuable sense of exclusivity. Such an introductory special discount has proven to skyrocket sales from many large retailers' mobile apps. It would be a shame if small and medium-sized businesses did not employ this effective strategy.
A retail business can also use artificial intelligence chatbots to initiate meaningful conversations and consultations with customers. Overall, a retail mobile app is a highly beneficial channel because it can help to promote a brand not only in stores but also in consumer territory.
#3: Retail app development for customer retention
Customers enjoy using retail mobile apps because they are entertaining and convenient. A retail mobile app with an integrated effective loyalty program can assist not only in gaining new customers. Businesses encourage app users to provide feedback on their products. 
The better the mobile experience, the easier it is to keep customers and have them interact with the brand's mobile app on a regular basis. There are numerous mobile apps available today. If a customer's expectations are not met, they will abandon the app in favor of something better. As a result, it is critical for businesses to create an excellent mobile user experience, as well as a positive customer experience when using their retail services in general.

What you should know before creating a
retail mobile app to keep up with trends
?
A proper team is required
You will need an experienced team to create your own successful shopping app. Yes, in this case, effective project delivery necessitates collaboration. Creating a shopping app necessitates:
Software developers to work on code

Designers to make the app look great

Testers to keep code quality 

Project managers to manage tasks

Business analysts to understand the market state and needs
Marketing Strategy is also essential
The development of a shopping app accounts for only half of your company's success. The rest is just good marketing and promotion. You must install user trust in your product through your marketing campaigns. Furthermore, the success of your company's organic growth is heavily reliant on content-based marketing. If you don't have a website or if your website lacks product information, this is your cue to get one.
Creating a shopping app with an outsourcing vendor is a viable option
According to various sources, outsourcing the development of a retail app can save you between 30% and 60% of your budget. Many advanced technologies and APIs can be used to customize retail mobile apps. Even if your team does not have sufficient expertise, you can always hire dedicated & experienced developers from an IT augmentation company to fulfill your development needs.
Conclusion
Creating a retail mobile app is an obvious step for companies looking to expand their global development and income. In this blog, we examined some aspects of the changing market and provided some clear examples of how mobile can be accepted and harnessed to promote retail success. Do you already have a retail mobile app but aren't making the desired profit? Experts in launching a profitable loyalty programme can assist you with this and much more. 
Way2Smile Solutions is a mobile app development company in Dubai that provides high-quality solutions to the retail industry. If you are interested in building a solution for your business, do not hesitate to contact us! Utilizing state-of-the-art technology, our retail solutions support the growing needs of modern businesses.
Frequently Asked Questions

Why should retailers have a mobile app?


Retail mobile apps bring hundreds of thousands of potential customers into the store. But not only for online purchases. As previously stated, shoppers are becoming more omnichannel.

How do mobile apps generate more revenue?


In several ways, mobile apps can improve customer engagement and retention. Apps can increase the amount of time a customer spends on a brand's website, potentially increasing sales. Mobile apps can also keep your customers from buying products from competitors.