How Dubai advances innovation to become the Metaverse Champion of the world
How Dubai advances innovation to become the Metaverse Champion of the world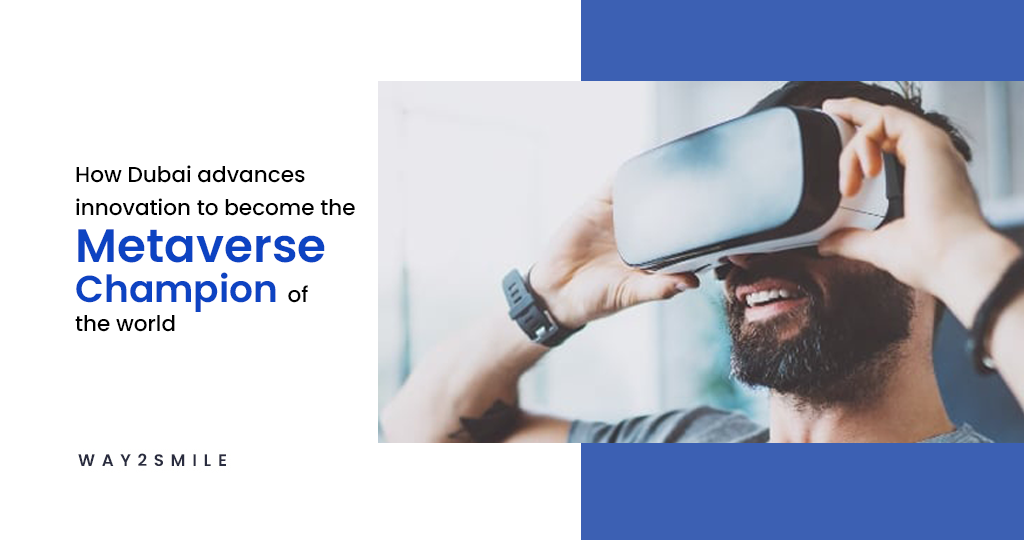 Reading Time:
6
minutes read
As the world's economy continues to shift, Dubai is taking advantage of this new reality by establishing itself as a global metaverse hub. Dubai is already known for its cutting-edge architecture and luxury lifestyle, but it's also becoming known for its new commitment to augmented reality (AR) and virtual reality (VR) technology. As it is home to many of the world's leading companies in different fields, including IT, financial services, and tourism, Dubai could well become the Mecca of metaverse technology. Continue reading this blog to find out what Dubai is up to, and how it is fast becoming a global hub for Metaverse!
There's great hype for Metaverse Apps in Dubai and the UAE because it is a new technology that is being used by people around the world to enrich users' life experiences. Sounds exaggerated? Actually not – This technology allows people to log into their virtual worlds, which are called Metaverse Apps. The users can then choose an avatar, customize their own appearance, and dress up with different clothes and accessories. Since it is a simulated environment, users can interact with digital objects and environments in a shared online space.
This has opened doors to incredible opportunities across businesses and industries as these technologies offer users a literal out-of-the-world experience.
Metaverse technology has been around since 2010, but it has only recently become popular among businesses and individuals who love gaming, shopping, and social networking. This popularity was spurred when the infamous social media giant Facebook rebranded to Meta and announced that a majority of its resources will be directed towards exploring the metaverse completely. Dubai, already dubbed the new silicon valley, has become the centre of metaverse technology due to its affinity to allocate resources towards cutting-edge technology like AR/ VR and AI/ML. The idea of the Metaverse has only been enabled by such cutting-edge technologies, and now it has evolved into a near-reality universe thanks to technologies such as Defi & Blockchain.
What is Metaverse and how does it help your business grow?
The Metaverse is a digital space that exists within the internet and allows users to interact with avatars. It is a blockchain-backed decentralized platform that has been designed to help you build innovative apps for your business. Although the scope of the metaverse in Dubai is expanding at a greater pace than the rest of the world, businesses from every corner of the world want a piece of the pie. It is clear that almost every independent technology and innovation has been converging towards one point for some time now. And the metaverse is where it all meets.
Metaverse apps are developed to be a safe, secure, and scalable infrastructure for the future of business interactions. It allows users to create digital assets like ownership rights to property or digital currencies. These assets can be used as payment methods for services or products offered by businesses on the Metaverse.
The platform's smart contracts allow users to exchange digital assets such as property ownership and virtual goods easily. For example, with Metaverse apps, you can buy or sell virtual items such as gold ingots or diamonds using your crypto wallet balance. Since it's an encrypted network, it allows private exchanges between users who are not connected via social media platforms. With Metaverse apps, you can generate more capital for your business by making deals virtually with your target audience.
Which industries are Dubai focusing on to implement its Metaverse strategy?
In Dubai, the Metaverse strategy is gravitating towards the industries that present the greatest opportunities. The following is a list of industries the Dubai technology market is focusing on to implement Metaverse app solutions in their businesses.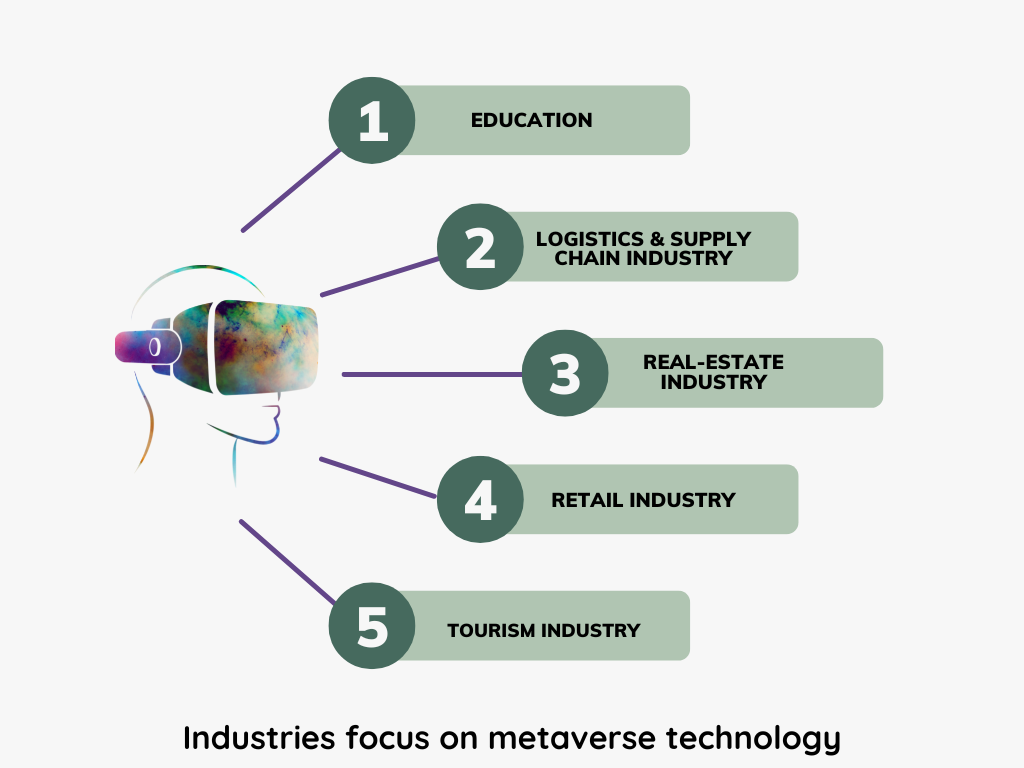 Education Industry
Despite the importance of education, schools around the world are struggling to provide high-quality instruction. As a result, many students drop out before they graduate or find themselves underprepared for the workforce. The metaverse can help education grow by offering applications that allow teachers to create virtual classrooms where students can have a more immersive learning experience.
Also, with such technology, schools can offer lessons that are tailored to each student's interests instead of forcing them all into one curriculum that doesn't meet their needs. Education is a field that thrives on innovation, and there are many ways that Metaverse can help the education industry grow. 
Students can easily access education-related information from anywhere in the world at any time. It also allows teachers to have access to their students' work when they need it, which will make it easier for them to teach and grade assignments. It can offer immersive education with students able to communicate with one another, their teachers and industry leaders in a virtual setting.
Logistics & Supply Chain Industry
The logistics and supply chain industries have been growing steadily since the time of ancient Rome. In fact, it is one of the oldest industries in the world, with a history of over 4,000 years. Dubai's and the UAE's contribution to world trade is enormous. It is responsible for ensuring that the customer's products are delivered on time, undamaged, and to the correct locations.
This industry also has to ensure that products are stored properly so they don't go bad, and then shipped to their destination when they're ready. In order to thrive in this competitive environment, companies need to be able to track their products from point to point, and they need to do it quickly and easily. That's where Metaverse apps come in. 
Metaverse is a software platform perfect for logistics and supply chain management companies. Metaverse apps can help manage the entire supply chain from inventory management to sales reporting, all on a single app with virtually instant access from anywhere in the world.
Real-estate Industry
One of Dubai's most valuable industries, real estate, plays a significant role in the country's economy. It has been growing for the last few decades and is expected to continue growing in the near future. The ultimate goal for many businesses today is to generate more revenue, and it is possible with Metaverse enterprise solutions.
It allows your customers to buy virtual real estate assets such as land plots and houses, which they can then use as a base for building their own business empires or simply use as collateral for loans from banks and other financial institutions. Metaverse apps can assist in differentiating yourself from other real estate agents in the market and popularizing your brand.
Retail Industry
One of the biggest challenges facing retail is the need for a seamless customer experience. From product research and selection to checkout, customers want their shopping experience to be fast and simple. Metaverse's apps for retail businesses can help retailers improve the speed at which they are able to provide this experience. Enterprises can use Metaverse's platform to build their e-commerce infrastructure and manage all aspects of their business in one place.
This means that customers get what they want faster and easier than ever before, while retailers are able to stay focused on their core business rather than spending time on repetitive tasks like customer service or inventory management. This combination of features makes Metaverse apps powerful for retail businesses looking to improve their customer experience while also growing revenue streams through increased sales volume.
Tourism Industry
Tourism is one of the most important industries in Dubai, both in terms of its contribution to the economy and its impact on people's lives. The tourism industry encompasses many different types of businesses, from hotels and restaurants to airlines and cruise lines. You can scale your tourism business by building Metaverse apps powered by AR/VR technology with top Metaverse services in Dubai to offer virtual tryouts of your services. This helps customers make better decisions even if there are various types of tourism activities in your town or city.
Metaverse apps are a great way for tourists to get a taste of Dubai without having to leave their hotel room or resort. The apps use augmented reality technology to let users explore cities like Dubai through virtual reality. This allows your customers to make use of your metaverse app to visit famous landmarks and attractions like the Burj Khalifa and Dubai Marina from the comfort of their homes. 
Final Thoughts
Technologies like augmented reality and virtual reality are sweeping through the business world. And Dubai is at the heart of this virtual revolution, with businesses in a variety of industries slowly adopting these technologies to gain a competitive edge. In time, these technologies will become as commonplace as smartphones are today, with Metaverse applications impacting a range of different industries. Plan your Metaverse journey now with the leading IT consulting company in Dubai to get cost-effective apps & solutions and bring your customers' dreams to reality in the virtual space.