How are Governments safeguarding Marine Life with Tech Solutions? Role of Way2Smile in helping out them!
How are Governments safeguarding Marine Life with Tech Solutions? Role of Way2Smile in helping out them!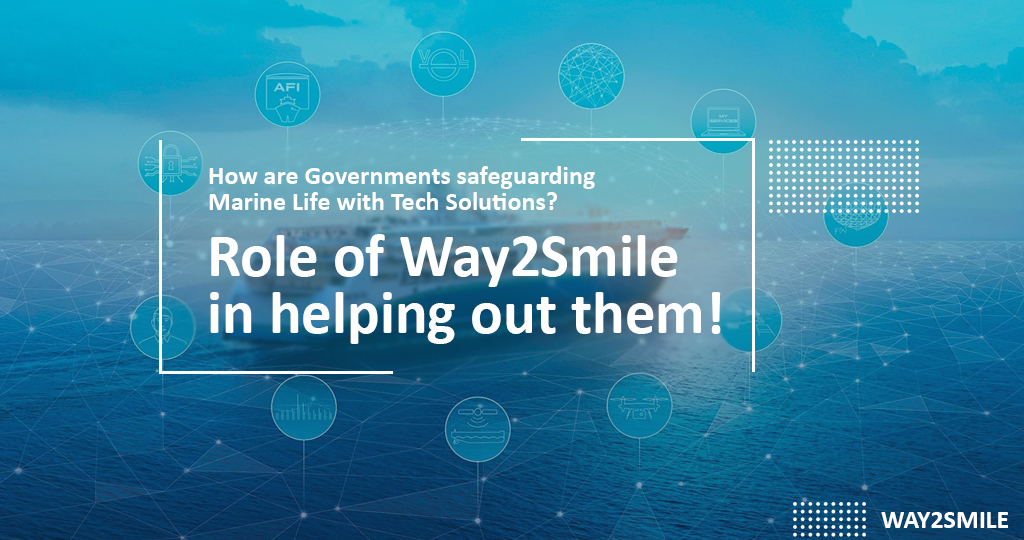 Reading Time:
4
minutes read

We are in this 21st era where it is crucial to safeguard every living creature in this world. In recent days, the word "sustainability" is becoming crucial. It is mandatory that the living environment should remain to be a better place for future generations.
One such environment is a marine ecosystem. In this blog, we have discussed the role of Governments in protecting vital marine life with technological solutions.
How technology can be implemented in Marine life by Governments?
Earth's ocean is the key factor of the environment. Moreover, 97% of the planet's livable habitat and also act as the home to more than seven hundred diverse species and our oceans generate half of the oxygen for human breathe while absorbing 30% of carbon dioxide in the atmosphere.
With these facts, we can consider the fact that oceans have a great impact on the environment and our public lives which should be safeguarded by every government of different countries since there is only 1% of oceans are protected by law.
Moreover, here are the major threats to the oceans:
Overfishing

Oil/chemical spills

Garbage dumping

Sewage

Industrial and agricultural runoff

Airborne Pollutants     
Sulfur dioxide and mercury from coal-burning plants

Pesticide and fertilizer runoff

Illegal fishing

Climate change (warming and acidification)
These threats should be resolved from the Government end instantly. According to UNESCO's facts and figures on marine life, by 2100, without major changes, more than half of all marine species will be at risk of extinction.
Hence, Governments have started to consider technological innovations that can speed up progress and save marine life by better collecting and using those data parameters for conservation efforts.
Read Also – How leveraging Artificial Intelligence could help in achieving Sustainable Development Goals?
Role of Coral Reefs:
Coral reefs are strong indicators of ocean health and they can also help scientists, policymakers as well as the public to understand and what needs to be done to protect them and other marine species.
Green submarines cables can be used for climate monitoring:
United Nations Agencies are joining hands together to explore undersea telecommunications cables and their applications for monitoring and the ocean floor.
By installing new trans-oceanic and regional telecommunication cables systems integrated with sensors with which a global network can be established providing real-time information for oceans climate monitoring.
Marine Skin Tag:
A blue swimmer crab becomes the first experimental thing of a sensor tag aimed at tracking animal movements in deep-sea environments. This lightweight tag is non-invasive and can be glued to the outer shell or skin of both large and small animals without disturbing their underwater behavior. With a battery life of 5 months, this device is responsible for seamlessly transmitting data whenever an animal chooses a surface.
SphereCam:
The SphereCam is powered by an Intel Edison compute module which enables flexibility, energy efficiency, and easy programming. In addition to this, the module can run on batteries for up to a week and fit perfectly inside the camera, preventing it from getting wet.
Smart Fishing Nets:
For a huge number of years, marine life has been disrupted by getting up caught in the fishing net where most fishes and marine animals would die during this hunting process. Now with Precision Seafood Harvesting, it incorporates technology into its fishing nets to help reduce the lifetime cost of fishing.
These high-tech trawl nets can identify and catch specific species of fishes which assists in keeping fishes more alive and improving the sustainability of the fishing industry.
The SeaBin:
This has been developed by a group of Surfers, which is developed with a technology that isn't live but soon will be in the market.
In particular, the SeaBin is a bucket and a pump and water filtration system, and it's been designed to eliminate the plastic waste and debris from the waters of marinas or docks.
To make sure chemicals aren't moving towards the ocean, this device comes with an optional oil-water separator that grabs water from the ocean, splits it from the oil, and spits the cleaner water out the other end.
The SeaVax robotic ship:
With the SeaBin being handy to use, SeaVax is completely complex. It is integrated with the combination of solar power, wind turbines, where this device can help vacuum plastic particles from the ocean.
Similar to the above, this device is also in the development phase with the exciting feature of not relying on traditional fossil fuels.
Recycling Technologies:
Right from the decade, the method they make use of recycling had limited capabilities which had led to much of our recycled waste ending up in skips and landfills.
To rule this issue, a British Company named Recycling Technologies has developed a piece of technology that turns every single plastic product into wax and oils with a factor of recycling.
Read Also – How much does the world spend on Sustainable Development Goals?
Role of Way2Smile in safeguarding Marine Ecosystem:
Way2Smile is well-aware of the importance of prevailing with the Marine environment and has framed solutions accordingly. We have developed a unique solution for ocean life that can easily predict the weather conditions and foresee the future.
We have created a unique Oceanography platform that can provide a greater view of marine life with the inserted floating buoys which are here for transferring enormous amounts of data. It also allows one to view the various ocean parameters and monitor the weather conditions in real-time. It can be highly beneficial for both the public and the environment.
Marine Debris Tracker: This is the application that provides information that is utilized by coastal guards, fisheries, oceanographers, and with this, they would get to know the details about plastic debris in the ocean with latitude and longitude along with tidal directions as well. It will be synchronized with a centralized server when the application connected over the network.
Conclusion:
It is extremely important to protect the environment around us. We people at Way2Smile have great concern towards our mother earth along with the living creatures around us and come up with solutions in accordance with them.
You can get in touch with us anytime and we are here to make your business sustainable with our expertise.