A Complete Guide on Developing Powerful Mobile Apps for Every Hospitality Business
A Complete Guide on Developing Powerful Mobile Apps for Every Hospitality Business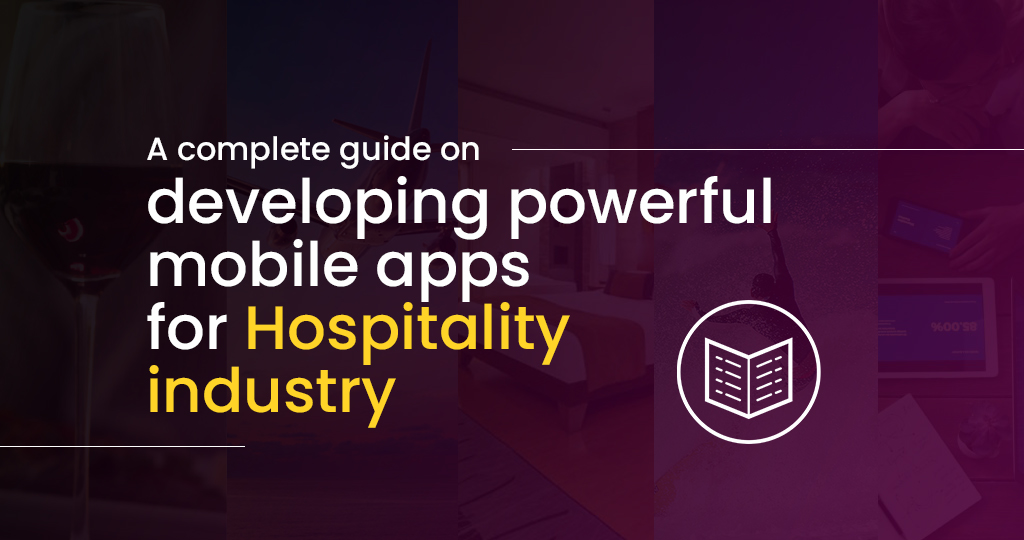 Reading Time:
11
minutes read
Mobile technology solutions for the Hospitality industry cater to a wide range of sub-sectors, such as restaurants, hotels, cruise ships, and other tourism-related components. 
To succeed, hospitality businesses need to capitalize on new trends and offer the best possible guest experience. This comprehensive guide provides you with the framework, knowledge, insights, actionable tips, and tools you need. When businesses in the hospitality industry do not implement these strategies, they run the risk of slipping behind competition, and quickly spell a threat to their existence.
Top 5 Hospitality Industry Sectors
The hospitality industry mainly focuses on leisure, food, and comfortable lodgings. Let's take a closer look at each of the 5 major sub-industries in this multibillion-dollar industry.
Food and Beverages
The hospitality industry has a largely devoted sector to food and beverage, with independent and part-time food and beverage operators. The main category includes:
Restaurants and cafes

Bars and lounges

Caterers

Pubs and clubs

Hotels

Fast food restaurants

Third-party food delivery services
Note: Entertainment venues and accommodations often use food and beverage to enhance guest experiences. 
Travel and Tourism
Overseas vacations, business trips, day trips, and weekend getaways are all part of the travel and tourism industry. All involves/necessitate some form of transportation. 
Airlines

Vehicle rental

Ferries, cruise ships, and boats

Coaches and buses

Trains
Lodging
Hotels are typically considered part of the lodgings sector in the hospitality industry, but it also encompasses vacation rentals, hostels, bed and breakfasts, camping grounds, and other businesses offering overnight accommodation to guests. The lodging industry is ever-changing, with properties ranging from a single room rented out on Airbnb in someone's home to large complex-style hotels with an endless list of amenities.
Recreation
Recreation includes entertainment businesses as well as other businesses that offer activities to help people rest, relax, or have fun. The list is extensive, and it includes:
Cinemas and movies

Acts of music and comedy

Museums and zoos

Sports for spectators and sports for participants

Spas for the day

Casinos

Shopping districts

Tours

Swimming holes

Parks for amusement.
Meetings and events
Meetings and events are becoming an increasingly important part of the hospitality industry, particularly in urban areas. This industry includes:
Weddings

Expos and trade shows

Meetings and summits

Business gatherings

Seminars on training

Sporting occasions

Markets and food fairs

Field days and farm shows

Fundraisers and celebration dinners
Why Is It Important to Stay Current on Hospitality Trends?
The most successful hospitality businesses are constantly evolving, but to do so, you must constantly keep up with the latest hospitality trends. This includes marketing initiatives and hospitality processes that embrace cutting-edge technology and respond to global events.
Keeping up with the latest marketing trends will give you the best chance of reaching your target audience and conveying what you want to convey. Meanwhile, embracing new technology can help a business become more efficient, while also helping to improve the overall customer experience.
Increasing guest satisfaction with the latest hospitality technology solutions and trends
It's not surprising that many technology trends in the hospitality industry are centered on the guest experience.

Ingenious hotel rooms
Guests staying in modern hotels can simply customize their rooms to suit their preferences. With the use of technology, hotel guests may control the lighting, and temperature, and even stream their preferred television programs using a remote control or smartphone. These spaces can also be set to use less energy automatically during specific times of the day. Additionally, while visitors are not in the room, they can turn off everything. Hotel guests benefit from these rooms as they are much more comfortable, but they can also save on operating costs related to energy consumption.
IoT
Applications for the Internet of Things (IoT) include voice-activated customer assistance, digital key cards, and everything in a smart hotel room. With the use of IoT, visitors can effortlessly control and customize every aspect of their accommodations. 
Big Data
One of the most useful advances in hotel technology is big data. As a result, businesses can make wiser and more strategic decisions based on consumer behavior. Utilizing the information, you may customize your offering to your visitors' requirements and interests and give them a more memorable experience.
Mobile check-in service
Since there is less interaction between visitors and staff when using a mobile check-in service, it may increase guests' sense of security. Mobile service is unquestionably a confirmed future hotel technology trend.
Contactless payments
Contactless payments are another emerging technology trend in the hospitality sector that every hotelier needs to be aware of. It conducts business using wireless technologies. Customers swiftly complete purchases by placing their card, or even a mobile device, next to the reader. The hotel industry has widely adopted this practice due to its advantages in the current climate. 
Additionally, because contactless purchases take up less time, visitors may check in more quickly and unwind after a long day of traveling. Beyond the conventional understanding, contactless payments can also refer to internet transactions. In other words, visitors send money to a certain account using mobile devices. 
Translational apparatus
Especially if your hotel is located in a well-known tourist area, you may host foreign visitors who speak different languages.
Naturally, effective communication is crucial to providing excellent customer service and a wonderful visitor experience, therefore hoteliers must adapt their procedures to get around language difficulties.
Fortunately, translation tools may be incorporated into guest services so you can speak with everyone in their language. One of the major trends in hospitality technology is a requirement.
Increased bandwidth
More people than ever before bring electronics on their trips, and they use those devices to stream videos, play games, browse social media, and more. Hotels should obtain as much broadband as possible to support this behavior because streaming higher-quality media takes more bandwidth. 
Cybersecurity
There have been cyberattacks on individual hotels and hotel chains as well as some of the biggest hotel chains. Stronger cybersecurity procedures are required as the hotel business uses technology more frequently.
Your network must be secure enough to handle sensitive business data given the increase in working from hotels. To avoid negative effects on your business operations and brand reputation, it's also worth investing in more robust security measures.
What Are The Current Market Trends in Hotel Industry?
The COVID-19 epidemic disrupted market trends. Nothing could any longer be relied upon that was forecasted or foretold. Particularly in terms of traveler behavior, motivations, and booking trends – new trends are already emerging.
Traveler markets are typical:
Increasing the quality of lodging provided by the people who supply it

Due to time constraints, attempting to fulfill bucket list items and travel meaningfully

In comparison with large resorts and franchises, independent and boutique hotels are booked more frequently

The prospect of unique first-time encounters with loved ones and close friends heavily impacted

Intending to utilize the world's numerous flexible work policies to balance work and recreation while traveling.

Gaining confidence in the use of their data to improve their experience.
Furthermore, recent events have increased the popularity of wellness travel even further. A $1.5 trillion market is emerging around the wellness movement. Naturally, this means that as more travelers plan their journeys, they will have fitness in mind.
Many changes will occur in the upcoming months and years as the majority of national markets continue to recover from the pandemic. 

Key factors that will help your hotel or restaurant prosper
There are various ways to be a successful hotelier in business, however, most hotels that are successful in the hospitality industry follow these guidelines:
Create a powerful brand
According to research, building a strong brand is essential for a profitable hotel industry. Consider your competition and how you see their businesses as you begin to build that brand. 
Observe the small details
The simple things may make a big difference in first impressions, bring authenticity to your brand, and make your customers' have an unforgettable experience. And when they are neglected, such minor particulars can also result in disappointment or even catastrophe.
By keeping up with maintenance, keeping things clean, and considering presentation in all you do, you can improve your prowess in this area. Any little difficulties will be resolved with good attention to detail before they grow into larger ones, ensuring smooth service and happy clients.
Watch those reviews closely
Feedback can help you make improvements to your entire property, but you shouldn't rely solely on forms provided at check-out. After all, your visitors won't stick to it. They will use the internet to post negative reviews or to share negative encounters on social media.
How can you help? Read all recently added hotel reviews, and when guests complain, try to be understanding. Keep in mind that word-of-mouth advertising is your most effective technique.
Provide customers with a cutting-edge experience
Today's hotel sector encompasses much more than just lodging and in-room dining. By figuring out what your guests want and anticipate, you can give them a truly new experience. On the list are live concerts, swimming pool activities, fitness classes, spas, and unique gastronomic experiences.
Hospitality technology solutions to consider for online experiences
Success in the hotel industry depends on choosing the best digital tools and solutions to streamline operations, enhance the client experience, and gain a competitive edge in the market as the world goes online and technology becomes more sophisticated.
When discussing hotel enterprises, technology in the hospitality sector typically includes:
Electronic distributions

Direct reservations

Fiscal management

Property administration

Enterprise intelligence

SEO and websites

Customer support and technology used by guests

Marketing
The Future of the hospitality industry
Future trends tend to be incremental, so there's a possibility that they may already be happening now, albeit on a smaller scale than in the future.
Here is a complete list of what is anticipated to be a significant trend in the upcoming years:

Smart spaces
What could be more convenient for travelers to spend a lot of money on than a hotel that serves as their assistant? The internet of things, soundproofing, wireless charging, smart controls like Amazon Alexa and Google Nest, and other advancements will allow travelers to do everything they want in their hotel room with hardly any effort. Travelers will be able to unwind as much as they can in smart rooms.
Green hotels
The world is rapidly turning greener, to the point where it is beginning to affect travelers' decisions about where to stay. Hotels are responding by implementing motion sensors, solar energy, water conservation, a reduction in plastic use, and introducing meat alternatives to the menu. Hotels must embrace the environmental movement because that is what today's visitors expect.
Multicultural employment
This region has a particularly robust hospitality industry, making many hotels international. This gives the visitor's stay a new dimension. They might have a waiter from their own country serve them, or while staying somewhere new to them, they might learn about a new culture.
Technology
Today's hotels hardly ever function without technology since it has advanced to the point where every aspect of a vacation or experience is complete with it. Artificial intelligence can be employed for a variety of tasks, including hotel pricing, visitor check-ins, online assistance, room service, and more. There is a smartphone app for everything, improvements are being made to transportation technology, and search engines can now be managed with voice commands. Overall, the mobile app development for hospitality makes it much simpler to recall customer preferences and personalize the guest experience.
Hotel layouts and business plans
Many hotels are seeking to rise to the challenge as a result of shifting traveler preferences. In addition to businesses, micro-rooms, a focus on local design and flavor, and immersive social spaces, "cool" luxury companies are beginning to appear in greater numbers.
Travel industry trends in the hospitality
The trends that will affect whether a traveler chooses your hotel or not are undoubtedly the most significant in travel app development companies. 
Don't overlook the following to maintain your relevance and guarantee a steady flow of reservations:
There is a rapid growth in mobile reservations made online.

People use social media to make decisions, particularly on Instagram.

A growing number of tourists are visiting Asia and the Asia-Pacific region, and their values and tastes differ from those of their Western counterparts.

Your ability to access the traveler market must also diversify as the market diversifies.

Corporate plans need to be driven by technology, or else they risk being obsolete.

Transport is getting more affordable, allowing more people to travel and opening up new markets. 

People want their travel experiences to be rewarding; they want them to be gratifying and exciting. You must ensure that a stay at your hotel is memorable.

Travelers are increasingly willing to spend more money if it means they can have a special experience.  
How quickly is the hospitality sector expanding?
Global economic expansion has coincided with the rise in the hospitality industry since the financial crisis ended ten years ago. The World Bank estimates that before the global epidemic struck in 2019 to 2020, the global economy grew at a rate of more than 3% annually. The global economy expanded by 5.5 percent in 2021 as a result of pent-up demand at the start of the pandemic, but it is expected to slow down to 4.1 percent in 2022 and 3.2 percent in 2023 before returning to pre-pandemic levels. This exceptional growth has benefited the hospitality and tourism sectors by encouraging global travel, which has increased the number of room nights for both leisure and business travel.
4 Ways the Hospitality Sector Can Adopt Sustainability
Transforming your hotel totally into an eco-friendly one may take some time and careful preparation. Use the suggestions below to practice sustainability in the hospitality sector without spending a lot of money.
Improve efficiency
A key aspect of revenue management is the ability to make and use precise estimates. Forecasts assist hotels in predicting future demand and financial performance. The environment can gain from hotels operating more efficiently, saving money, and making the most use of their resources, all thanks to accurate demand forecasts. 
Automation is key
You might be shocked to realize how important smart devices and technology for the hotel sector are to enhancing sustainability. Your hotel operations can be optimized as a result. Automation uses technology to omit the customary check-in procedure. This hospitality technology solution makes actual keys unnecessary and speeds up access for visitors to their hotel rooms.
By putting up a digital check-in process, you can utilize fewer paper and credit cards. Your visitors will appreciate not having to stand in line and being able to enter their accommodation immediately upon arrival.
Water conservation
About 24% of all utility costs for hotels are attributable to water use. The areas that consume the most water are kitchens, laundry, landscaping, and bathroom fixtures. A core sustainable strategy, reducing water use also aids in cost savings.
Regular water tracking, low-flow toilets, installing effective faucets and showerheads, and installing low-flow toilets are the most frequent water conservation techniques used by hotels. It is crucial to remember that high-efficiency bathroom fixtures use at least 20% less water, which is a significant way for hotels to save money. Encouragement of tourists to take sustainability into their own hands by conserving energy and water is another typical strategy. 
Cleaning products
To lessen a hotel's influence on the environment, it is critical to select facilities and cleaning supplies that are more environmentally friendly. Hotels have opted to install refillable soap and shampoo dispensers rather than small amenities, which generate too much trash. High-end hotels have experimented with developing custom-formulated amenities in recyclable or biodegradable packaging, however, mid-range hotels tend to favor this approach more frequently.
Many hotels are deciding to switch from using abrasive cleaners to using organic or natural cleansers instead since they are less damaging to the housekeeping staff and the environment. This aids in the reduction of petrochemical-derived product use.
Conclusion
Both the travel and hotel industries include the hospitality businesses. All of these industries have one thing in common, they are all large global service industries that are becoming important in this modern era. And what are the various hospitality sectors that comprise the hospitality industry? The articles that follow will teach you more about related industries.
Today's guests' preferences are changing, and if hotels want to serve guests better while saving money in the long run, staying up to date on all the latest hotel technology trends is essential. We attempted to include as many hospitality technology trends as possible in this blog. That doesn't mean you'll go all in on all of them all at once.  
Given how extensive and quickly they are occurring, it is understandable that at times the changes in the hospitality sector feel daunting. The guide for hotel booking app development trends in 2023 is influenced by changes in the population, technological advancements in the hotel industry, and how important upper management's mindset and strategy are.  When enterprises in the hospitality industry do not implement these strategies, instead staying with what they know, they run the risk of slipping behind their competitors, which will quickly become a threat to their existence.