Things to consider while attending the Tech Event GITEX 2020
Things to consider while attending the Tech Event GITEX 2020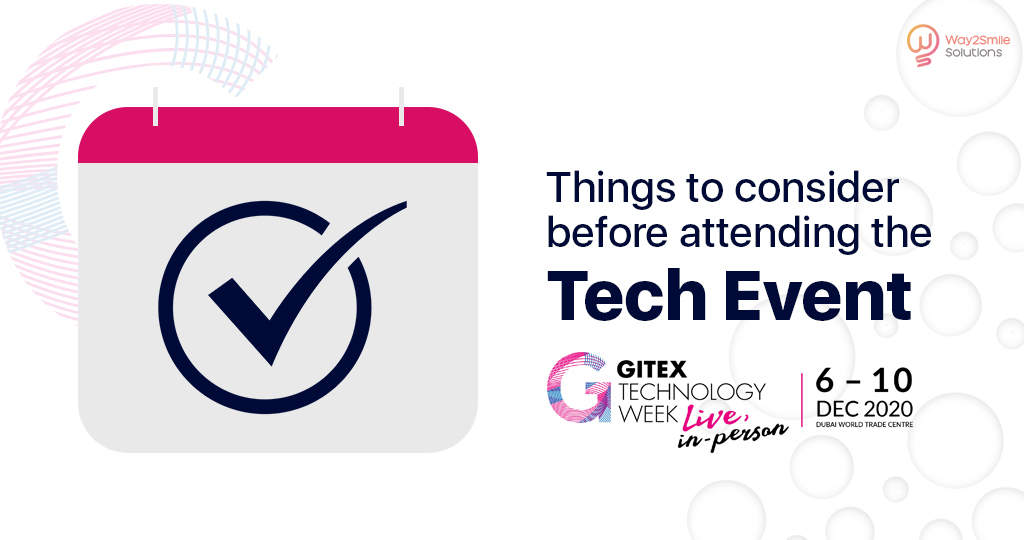 Reading Time:
6
minutes read

Tech conferences are the perfect opportunity to easily connect with new people, showcase their products or ideas, learning new insights into technologies, discovering new possibilities, etc. There are a bunch of benefits for be it either for a business or a person.
This can enhance you and your business to the next level. You can get to know the industry trends and overwhelming feedback from the leaders. 
So, if you are set apart for this event, here the blog discusses the primary tips, precautions, and the major things you should consider when attending GITEX Technology Week 2020!
Technical Tips to consider:
1. Know the reason behind your visit
As every event has its own uses, you should initially know why you are attending the event. There can be multiple reasons why you should visit GITEX. 
It can be such as:
Exhibiting your business ideas or products

Growing your career

Learning new things or looking for insights

Connect with New People
By exactly knowing the reason, you can know what will be your role at GITEX. For instance, if you are looking to enhance your career as a programmer, you can get to learn the new programming languages and build a rich portfolio of yours!
Secondly, if you are a business owner, you can distribute your business cards to the experts out there and make your business easily accessible. If your ideas or products are found interesting, they would reach out!
If your motto is to connect with new people, that can also be achieved. Make sure you are also connected with them via Social networks to remain updated with them!
Read Also – How to make business exhibitions as GITEX Technology Week works for you?
2. Do a Technology Study
This is applicable not only for GITEX but for every Tech event you are planning to attend! As technologies are drastically changing every day, you should know the current as well as the future trend in the industry. 
Additionally, this will also help you to clearly understand the views of the speakers and also implement them to your business or product ideas. You can check for the latest statistics pertaining to them and can pitch them as well. 
3. Initiate building stronger relationships
GITEX can be the exclusive place where you can build new relationships from the event. It is not just about speakers! There are exhibitors out there whom you can meet like-minded people who can give you great ideas for business.
Sometimes walking into a tech event like GITEX may be hard if you're a beginner. Hence, make sure you connect with the leaders, speakers, or attendees via social networks. You can get to know their interests, dislikes, and know about them clearly. 
There would be a good number of business exhibitors there which you may be interested in. If your idea matches the business, you can partner with them, start a new project, and make your goals achievable! You can get a new connection and your business goals ready!
4. Share your ideas with a perfect pitch 
Remember, tech conferences offer a collaborative environment. As everyone shares their ideas, insights into new technologies, programming languages, etc, you can also share your thoughts on the same which the people around you will love!
In addition to this, if you also have ideas about your new launch of a product or service, you can also pitch them perfectly. If your idea or product is super awesome, you can gain public visibility in a short span of time. You can stand out from the crowd. Pitch out to the businesses exhibiting their products, check if they can help you, and finally connect with them!  
PR – Launching DigitalWorkSmart – A platform that simplifies your Digital Transformation Journey
5. Take quality notes of leaders speech
At GITEX, you can get an opportunity to listen to the speech of industry-leading experts. Instead of listening to them, you can also take notes of them completely. It can even be a life-changing or business disrupting idea undoubtedly.
If you're a quick writer, this won't be a problem. You can use either pen/paper or applications such as Google Docs, Microsoft Office, Notepad, etc. Be prepared to jot down everything which smart thinkers would be there!
6. Know what type of companies 
If you are looking to initiate a business, and you have an existing idea with you, GITEX can be the platform to get in touch with such companies. You may belong to any of the sectors such as Healthcare, Logistics, Banking, Education, Governments, etc. The only thing you should know is to meet the relevant people, check if they can work on your ideas, and make everything possible!
7. Follow up after the event
Being an attendee, you shouldn't just stop with connecting them in-person or via social networks. Make sure you follow them after the event as well! If you meet businesses there, you can follow them which may help in the future!
You may have any business idea and it would be offered as a service from them! Make sure you brush up on the things stated there, follow up with the connections to scale your business.
8. Present your tech experience to the team
This is a more important thing which shouldn't be ignored! The thing you learned, the connections you met, the strategies discussed, etc should be shared with your team without a doubt! In addition to you, your team will also be upgraded to a greater extent. 
PR – Revolutionary Delivery Management App ManageTeamz 3.0 set to launch in GITEX 2020
Non-Technical Tips which you shouldn't forget:
Technically, one should be ready with the above things. But on the other hand, non-technically here are the things you should consider:
1. Research for the venue and book your stay
You would already be aware of the location where GITEX is planned to happen. It is at the Dubai Trade Center. If you belong to any other country, ensure you have booked your tickets for travel and stay! If you haven't done it, book them now.
If you have done it already, have the receipts of those tickets either in your hands or on your mobile phones ready.  
2. Study the conference schedule completely
You can go through the meeting schedule fully. Browse the official website which can provide you with this information. You can find the details of the attendees, the exhibitors, the speakers, the company heads, etc there! Ensure you study the details fully and arrange your plan accordingly!
3. Research about the speakers
It is always good to know priorly about the speakers and the industry leaders who are planning to attend this event. You can research them via social media or other popular websites to know them very well. You can also shoot your queries to them accordingly!
4. Organize your business cards & materials
To promote your business, you should have your marketing materials and business cards ready to engage the people out there! If you have business ideas, they would easily reach you if you organize and distribute them effectively!
5. Ensure you have enough medical and electric items
Electronic gadgets such as Laptops, Smart Phones, etc should be completely charged to avoid unwanted situations. Also, carry enough medicines with you as a precautionary strategy. 
6. Don't forget, Corona is still here
This is going to be the final yet the most important thing which shouldn't forget! The deadly virus Corona is still here! Hence, it is your responsibility to safeguard yourselves with the required sanitizers, masks, etc in your hands!
PR – Way2Smile is now an exhibitor at 40th GITEX Tech Week 2020!
Conclusion:
GITEX is the popular Tech Event which will happen every year! With the pandemic crisis, GITEX is termed to be the first event that is set to happen after a very long time! Just 4 more days to get started and make sure you follow all the above guidelines to meet your business goals!
Way2Smile being a leading Digital Transformation Provider in the industry is also an exhibitor at GITEX! So, if you have any business ideas, we can implement them for you and make them achievable!
You can find us at Hall 7: E24 to discuss more on your ideas!
Meanwhile, we're also offering free virtual access passes. If in case you haven't booked your seats at GITEX, you can get in touch with us and we can provide you!
For more information Contact Way2Smile
Website: www.way2smile.ae | Phone: +971 55 818 7507 /  04 5705 745 | e-Mail: bd@way2smile.ae
Follow Way2Smile on Social Medias