Press release: Way2Smile is now an exhibitor at 40th GITEX Tech Week 2020!
Press release: Way2Smile is now an exhibitor at 40th GITEX Tech Week 2020!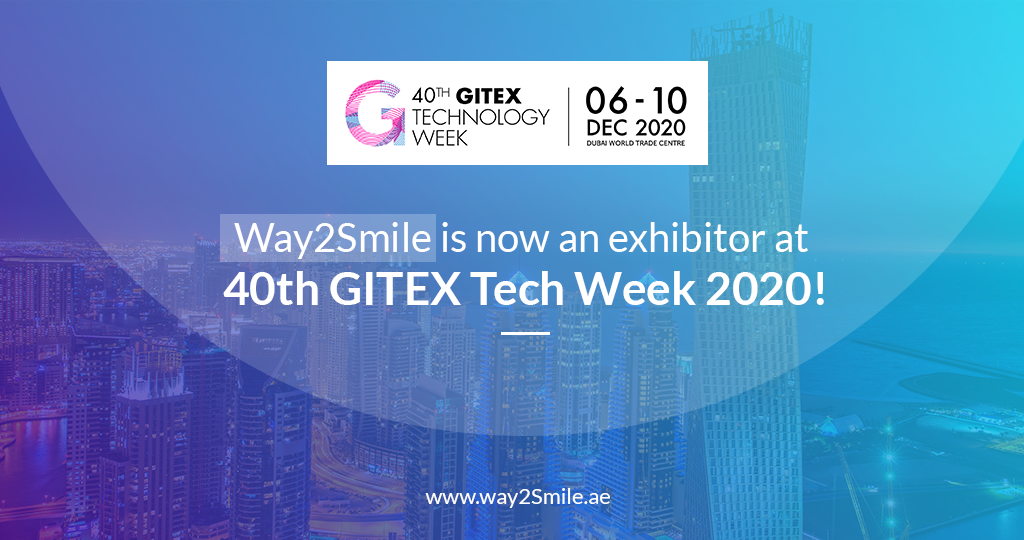 Reading Time:
3
minutes read
The most famous Tech Event in the international year for 2020 is planned to happen between December 6 to 10 at Dubai World Trade Center (DWTC). GITEX is a tech-savvy event that is composed of giant businesses and governments which are willing to grow their business towards greater heights!
Advanced technologies such as Artificial Intelligence, Edge Computing, Blockchain, Cybersecurity, etc are dealt here with industry-leading experts who excel in technology. This in turn opens the doors for multiple startups to plan and implement new ideas in their business.
Event is hosted in Dubai and usually experiences around 100,000 visitors from 140+ countries being participated. This can be a great opportunity where you can explore diverse perspectives which will help you to scale your business.
Being one of the top digital transformation companies, Way2Smile Solutions is now set to participate in this event as an Exhibitor at Hall No 7 – Stand No E24. we have planned to showcase our new products and services which could be beneficial for your business!

Madhu Kesavan, the CEO of Way2Smile Solutions says, " As the pandemic hit all businesses with no mercy, we are happy to see an In Person and Live event happening in Dubai. We are very much delighted in showcasing our services and offerings and have an exhibition stall in GITEX 2020. Our primary focus is offering Sustainable Development Goals Solutions for Governments and Enterprises with Digital Transformation. The response we get from our partners to meet us at this event is tremendous. we look forward to meeting like minded businesses, enthusiasts and decision makers at the event."
About Way2Smile Solutions DMCC:
Way2Smile Solutions is one of the leading IT solution providers with vast knowledge of latest technologies. The company is composed of knowledgeable developers who can work on any kind of requirement irrespective of the complexity. Way2Smile Solutions maintains a good portfolio of 100+ projects featuring various industrial sectors.

For more information Contact Way2Smile
Website: www.way2smile.ae | Phone: +971 55 818 7507 /  04 5705 745 | e-Mail: bd@way2smile.ae
Follow Way2Smile Solutions
To Contact GITEX:
Website: www.gitex.com | Phone: +971 4 308 6480 | e-Mail: gitexmarketing@dwtc.com
Follow GITEX Technology Week
Related Press Releases:
Launching DigitalWorkSmart – A platform that simplifies your Digital Transformation Journey
Revolutionary Delivery Management App ManageTeamz 3.0 set to launch in GITEX 2020